Fortnite - Galaxy LLama Spray + 1000 V-Bucks Epic Games Key GLOBAL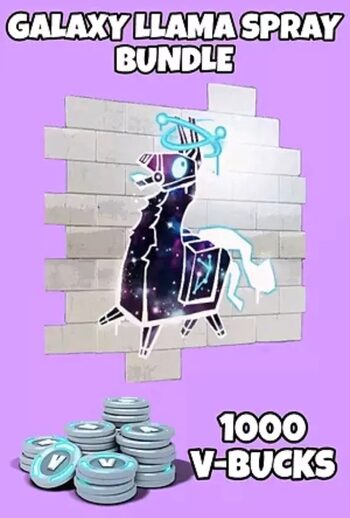 Fortnite - Galaxy LLama Spray + 1000 V-Bucks Epic Games Key GLOBAL
Share with someone who would like this!
Sajnáljuk, elfogyott :(
Szeretnéd ezt a játékot? E-mailben értesíthetünk, ha újra kapható lesz.
Értesítés
GlobálisAktiválható itt:

Amerikai Egyesült Államok

Check

Digitális kulcs

Ez a termék a(z) (CD-KEY) fizikai kiadása

Azonnali szállítás
Fontos közlemény:
For Epic Games version of the game.
Vélemények: 0
Fortnite - Galaxy LLama Spray + 1000 V-Bucks key
Announce your presence with a Galaxy Llama Fortnite spray! It's a lot better and wiser than shouting or shooting, especially if you don't want to receive a headshot from a mile away. Purchase this DLC at an awesome price instead, and get a unique wall spray exclusive to the owners of this particular DLC item. Land on the island and mark your favorite spots! You can use this cosmetic element as a way of humiliation by marking the dead body of your enemy with a Galaxy Llama spray. Fortnite game currency known as V-bucks is also included in this package for all the rest of your customization needs!
Begin your Fortnite journey
Join the hottest battle royale game as of yet, if you haven't done so already! Galaxy Llama Fortnite spray will serve as a good cosmetic item to have at the beginning of your upcoming Fortnite journey. In 2017 Fortnite shocked the gaming world by introducing an awesome blend between elements of PUBG and Minecraft in a single free to play battle royale game! Don't hesitate and increase your experience of playtime with a Galaxy Llama spray. Fortnite veterans are also completely free to expand the collection of their items with this purchase, so go ahead, don't why away and pick it up!
1000 V-Bucks for your spending!
If you want something more than just the Galaxy Llama Fortnite spray, the DLC pack that you'll buy will also include 1000 V-bucks. Use one thousand units of this in-game currency completely freely and buy items according to your personal preferences ranging from sprays, weapon skins, character skins to emotes. If that somehow is not enough, be sure to check out the Fortnite skin collection we have to offer. There you will find not only cosmetic items but different amounts of V-bucks as well. Get yourself set for the battle royale action no matter which platform you prefer!
How do I redeem a Fortnite code on PC?
• Click Sign In on the top right corner of the Fortnite home page;
• Log in with your Epic Games account;
• Hover your mouse cursor over your account name on the top right corner;
• Select the Redeem Code option;
• Enter the key code and click Redeem.
Don't forget that you can always find even more similar offers on our Fortnite skins collection! Visit and browse through the latest deals!
Egyéb részletek
Megjelenés dátuma

2019. április 9.

Kiadó

Epic Games

Fejlesztők

Epic Games