World of Warcraft 60-days time card (PC/MAC) Battle.net Key UNITED STATES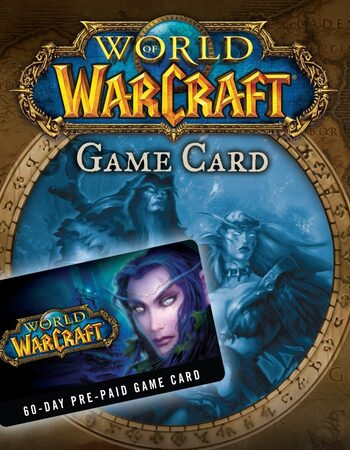 World of Warcraft 60-days time card (PC/MAC) Battle.net Key UNITED STATES
Share with someone who would like this!
Egyesült ÁllamokAktiválható itt:

Amerikai Egyesült Államok

Check

Digitális kulcs

Ez a termék a(z) (CD-KEY) fizikai kiadása

Azonnali szállítás
9.86

Kiváló értékelés

(20k+ sales in the last 6 months)
Termékleírás
World of Warcraft 60-days time card
Your time in WoW is running out and you don't want to be tied to a monthly subscription fee? Want to play on your own terms? Take off to a vacation and don't lose a single minute of your precious game time while you're at it? It's your lucky day because WoW subscription is not the only valid option to enjoy the realms of this epic MMO tale. Buy WoW 60-days time card and rest assured; for two months you'll be completely covered, and once the period is over, you decide what's to come next.

WoW MMO
World of Warcraft is one of the broadest, most expansive, and definitely, one of the most captivating video games out there. With a history as rich as that of our own, with actions' variety to cover one's schedule for months or even years, and with millions upon millions of dedicated players worldwide, this beastly title is without a doubt worthy of your unprecedented attention. WoW, 60-days time card offers exactly the same accessibility as the WoW subscription does, though, the differences come in price and convenience.
WoW Time Card Variety
While a monthly subscription to the WoW realm has a fixed monthly fee and covers you for as long as you choose to stay subscribed, WoW time card prices are constantly shifting and changing. Thus, sometimes, you may snatch a captivating deal for a pretty penny less than that of the continuous monthly payment. The cards offered here range from 30 to 90-days period, and this simply means that, with a bit of strategy and planning, you can arrange both, your free time and playtime in the most convenient manner possible.
Play more for less, buy WoW 60-days time card today!
Rendszerkövetelmények
Minimális rendszerkövetelmények
Rendszerkövetelmények

Windows® 7 64-bit

Processzor

Intel® Core™ i5-760 /AMD FX™-8100

Memória

4 GB RAM (8GB Intel HD Graphics 530)

Grafika

NVIDIA® GeForce® GTX 560 2GB/ AMD™ Radeon™ HD 7850 2GB /Intel® HD Graphics 530

Tárhely

70 GB
Ajánlott rendszerkövetelmények
Rendszerkövetelmények

Windows® 10 64-bit

Processzor

Intel® Core™ i7-4770 / AMD FX™-8310

Memória

8 GB RAM

Grafika

NVIDIA® GeForce® GTX 960 4GB / AMD™ Radeon™ R9 280

Tárhely

70 GB
Egyéb részletek