Big Lots Gift Card 50 USD Key UNITED STATES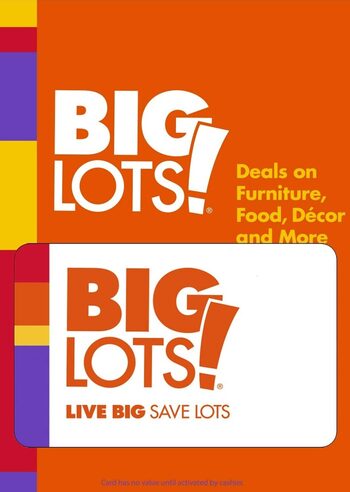 Big Lots Gift Card 50 USD Key UNITED STATES
Share with someone who would like this!
Egyesült ÁllamokAktiválható itt:

Amerikai Egyesült Államok

Digitális kulcs

Ez a termék a(z) (CD-KEY) fizikai kiadása

Azonnali szállítás
Fontos közlemény:
No expiration date. Code is valid only in the United States.
Termékleírás
Big Lots Gift Card 50 USD UNITED STATES
Are you looking to refurbish your home, buy a new couch or install a brand-new kitchen? Maybe you're just looking for decor ideas to make your apartment or garden cozier? You're in luck because Big Lots has everything you need! At Big Lots, you can buy furniture, decor elements and even plan and furnish the entire house! The best part is – you can pay with Big Lots 50 USD gift card key that will make your shopping experience faster, more comfortable, and cheaper! What could be better than that? Buy Big Lots 50 USD gift card key and get shopping!
What can I use the Big Lots gift card for?
At Big Lots, you'll find everything you need to make your home look stunning:
• Furniture for every room. At Big Lots, you'll find furniture for the living room, bedroom, kids' room, bathroom, and kitchen – furnishing your house has never been easier;
• Decor elements. Make your home cozy with thousands of decor elements and items;
• Kitchen tools and dinnerware. Pots, mugs, plates, frying pans, and more – Big Lots has everything you need for cooking delicious meals;
• Electronics. Make your daily life easier with various home appliances;
• Kids' essentials. Find everything your child needs, from clothes to school supplies and toys;
• Sports equipment. Get in shape with sports equipment and accessories;
• Cheap Big Lots gift card price.
It's always better with a Big Lots card!
Big Lots 50 USD gift card key is the perfect way to help you create the living space of your dreams. Shop for every item your house needs instantly with a Big Lots gift card at a cheaper price today! Whether you're moving into a new home or looking to spruce up your current space, a Big Lots gift card gives you access to a wide range of furniture, decor, lighting, and home improvement products. Big Lots has everything you need to create a beautiful and comfortable home – from stylish and functional storage solutions to elegant accent pieces to furniture for every room, kitchen tools, dinnerware decor elements, and more. Enjoy cheap Big Lots 50 USD gift card price and create your own home sweet home cheaper!
How to redeem a Big Lots gift card?
Here is how to redeem your Big Lots 50 USD gift card key:
• At checkout, select gift card as a payment method;
• Enter your gift card numbers in the designated fields.
• Apply your gift card to your order.
Egyéb részletek
Megjelenés dátuma

2018. december 3.

Kiadó

Big Lots

Fejlesztők

Big Lots