iTunes Gift Card 25 USD iTunes Key UNITED STATES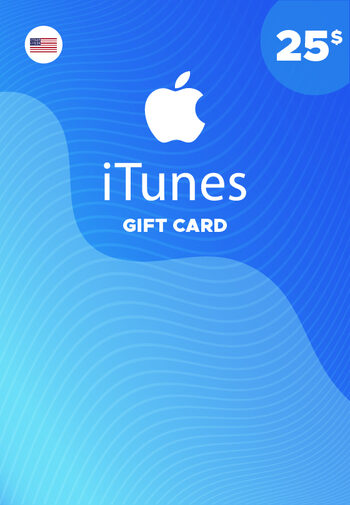 iTunes Gift Card 25 USD iTunes Key UNITED STATES
Share with someone who would like this!
Cheapest offer
Buy as a gift
Receive this product as a gift PDF.
Available at checkout:
Egyesült ÁllamokAktiválható itt:

Amerikai Egyesült Államok

Digitális kulcs

Ez a termék a(z) (CD-KEY) fizikai kiadása

Azonnali szállítás
Termékleírás
iTunes Gift Card 25 USD (UNITED STATES)
When you think of music, there's a fairly high chance that those thoughts will lean towards iTunes. Buy 25 dollar iTunes card code and try this Apple service on your own iTunes account! There's plenty of music offered in the selection, but you will also be pleasantly surprised by the available movies and even audio books!
Music
In accordance with its name, the Apple iTunes gift card will give you access to plenty of melodies and songs that will amuse or at least chase away the boring silence. You can browse for your favourite artists and their entire albums, or maybe there's a singular song that you heard on the radio and would like to own. iTunes is one of the most prominent places to shop for music, so buy 25 dollar iTunes card code, increase the amount of funds in your iTunes account and delve into the endless music!
Books
Or maybe you are a reader – well, iTunes can be your friend in this as well. While it is not a national library, there is a sizable and greatly catered library that you may browse. Popular detective stories, interesting novels or even fanciful fantasy tales, all can be found in one place and paid for with one card, without involving your bank account! Plus, Apple iTunes gift card can always serve as a good present for a friend who loves to read; who knows, you might even start a book club!
Entertainment
Buy 25 dollar iTunes card code and you will be able to spend your funds on two other forms of entertainment available in iTunes store. One of them being movies that you can buy and watch at your leisure on PC or Mac. So, if you missed some movie in the cinema, why not watch it with iTunes? The same goes for TV shows too, as it allows you to catch up on things that interest you.
The other entertaining feature is the Apps. You can use the Apple iTunes gift card to get games or downalod amusing silly programs that might occupy your pastime. With iTunes, you will surely find your next purchase and with variety on the offer, all you have to do is pick!
Follow the provided instructions to redeem your 25 dollar iTunes card code:
• Open up the iTunes app on your device;
• Scroll down to the bottom of the screen;
• Press the Redeem option;
• Manually enter the code;
• Tap Redeem on the right corner;
• Enjoy your purchase!
Egyéb részletek
Megjelenés dátuma

2003. április 28.

Kiadó

Apple Inc.

Fejlesztők

Apple Inc.