Top Up Free Fire Diamonds Indonesia
Share with someone who would like this!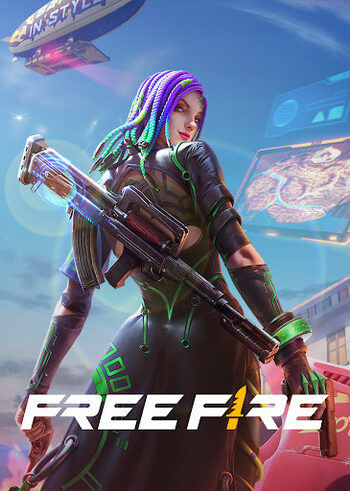 Cashback deal
Top Up Free Fire Diamonds Indonesia
IndonesiaCan't be activated in

United States of America

Direct top-up

Direct delivery

to your account
Select denomination*
Authorized partner
Safe & secure payment
Free Fire Diamonds
Free Fire - Battlegrounds is the ultimate survival shooter game available on mobile. Each 10-minute game match places you on a remote island where you are pitted against 50 other players, all seeking survival. Players freely choose their starting point as they land with a parachute, and aim to stay in the safe zone for as long as possible. Drive vehicles to explore the vast map, hide in trenches, or become invisible by proning in the grass. Ambush, snipe, demolish, there is only one goal: to survive. Free Fire Diamonds is one of the most effective ways to enhance your gameplay and achieve victory, so buy Garena Free Fire Diamonds top-up for the best price available!
What are Free Fire Diamonds?
Free Fire Diamonds are virtual currency units that can be earned or purchased within the game. They are denoted by a diamond icon and are essential for unlocking exclusive in-game content. Garena Diamonds work based on the same principle as PUBG Mobile Unknown Cash or Apex Legends Coins. These diamonds can be used to buy characters with unique abilities, upgrade weapons, unlock special events, and purchase cosmetic items that enhance the visual appeal of the gameplay.
How do I get Free Fire Diamonds?
Main options to get Free Fire Diamonds is to purchase them in the mobile game, exchanging them against FF Token or if Garena gives you some. Another way that saves your funds and time is to purchase them via Garena Free Fire top-up. If you want to advance fast and assert dominance in Free Fire Battlegrounds, buying Garena Free Fire Diamonds top-up is one of the most productive ways to achieve that. Buying a FF top-up is a convenient and fast way to acquire the in-game currency since we offer Free Fire diamonds for a cheaper price along with guaranteed transaction security. All you need is an active Garena account and the game on your mobile to activate it.
What are FF Diamonds used for?
If you have some FF Diamonds in your stock, you can enjoy:
• Exclusive in-game items;
• Participation in Luck Royale and Diamond Spin to obtain various unique skins and weapon upgrades;
• Iconic characters like Misha, Nikita, Kelly, Kapella and many others;
• Customization options. With Free Fire Diamonds, players can personalize their in-game avatar, weapons, and vehicles, making their gameplay more unique and visually appealing.
There are many ways to use your Garena Free Fire Diamonds top-up, so grab some FF Diamonds and get yourself those shiny items to distinguish yourself from other players!