The Sims 4 Bust the Dust Kit (DLC) Steam Key GLOBAL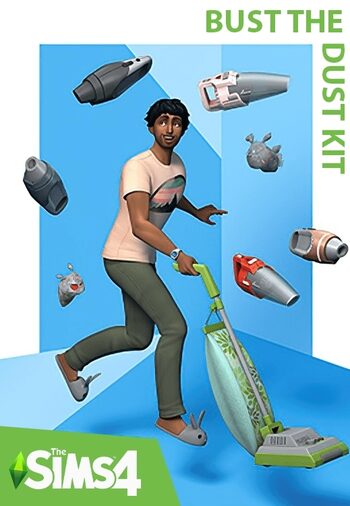 The Sims 4 Bust the Dust Kit (DLC) Steam Key GLOBAL
Μοιραστείτε το με κάποιον που θα του αρέσει!
Συγγνώμη, εξαντλημένο. :(
Θέλετε αυτό το παιχνίδι; Μπορούμε να σας ειδοποιήσουμε μέσω email όταν το προϊόν είναι ξανά διαθέσιμο.
Ειδοποίηση
ΠαγκόσμιαΜπορεί να ενεργοποιηθεί σε

Ηνωμένες Πολιτείες της Αμερικής

Ελέγξτε τους

Ψηφιακό κλειδί

Αυτή είναι μια ψηφιακή έκδοση του προϊόντος (CD-KEY)

Άμεση παράδοση
Σημαντική Ειδοποίηση:
This content requires the base game The Sims 4 on Steam in order to play.
Κριτικές: 0
Ίσως επίσης να σας αρέσει
Περιγραφή προϊόντος
The Sims 4 Bust the Dust Kit (DLC)
Sims 4: Bust the Dust (DLC) Origin key brings the fourth sequel to one of the most favorite and beloved real-time, real-life simulations ever! Create and customize your own character, build a house, find a job — make a career, surround yourself with loving family and neighbors, involve in numerous daily activities, or do whatever else you can think of, it's The Sims 4 after all.
Do you know that you have to clean your own home, and also your beloved Sim's homes? Buy The Sims 4 Bust the Dust Kit (DLC) Origin key at a cheaper price and tidy up your Sim's home, because dust is piling up all the time, spawning bunnies and filth friends. Clean the muck and let your home shine. New buffs and rewards for every dust level are available together with vacuums that will help your Sims to be cleaner.
The Sims 4 Bust the Dust Kit (DLC) features
• Clean the dust. It constantly builds up into piles, so you have to clean it;
• Let your Sims be clean. Some Sims will clean every bit of dust, while others will let it remain. Don't be filthy and make your Sims cleaner;
• Use vacuums. Build Mode features new handheld vacuums, that are important for cleaning dust;
• Cheap The Sims 4 Bust the Dust Kit (DLC) price.
Stretch, Bend and Drag customization techniques
One of the Sims 4 key characteristics as to why the Sims series has always been so fun, is their character creation menu and Sims 4 is no exception. The new Create-a-Sim tool allows you to basically become a sculptor and bend your Sim in almost any physical form and shape: you can click, drag, and manually tweak almost every aspect of your creation. House customization options are as vast as it gets or at least as vast as the Create-a-Sim tool. Not only can you customize every corner of your household, but you can also pick from already premade components or even better: download a pre-made blueprint from online storage, where players from all over the globe put their ideas into practice. Raise or lower the very foundations of your house or stretch and drag the edges of your walls if you lack some space.
Do Sims feel something?
They do now! And they feel not just something, with The Sims 4 key, they feel a lot. Traits and aspirations are back, and while they are fun and useful, this isn't about them. The latest edition presents a pack of emotions that now are the key factors in control whenever you do not interfere. There are many triggers to put your Sim in a certain emotional state, and these will have wide-range implications over the course of your game.
Sims are developing in more than one way!
Last but not least, buy The Sims 4 key and enjoy the added elements of multitasking abilities. No longer will your Sims awkwardly drink coffee and only after the cup is empty will start communing. You will feel this much-desired mechanic right off the bat, and it makes the overall gameplay much smoother and more coherent.
Απαιτήσεις συστήματος
Ελάχιστες απαιτήσεις συστήματος
Υποστήριξη 64bit

Yes

Απαιτήσεις συστήματος

Windows 7 (SP1), Windows 8, Windows 8.1, Windows 10

Επεξεργαστής

1.8 GHz Intel Core 2 Duo, AMD Athlon 64 Dual-Core 4000+; 2.0 GHz Intel Core 2 Duo, 2.0 GHz AMD Turion 64 X2 TL-62

Μνήμη

4 GB RAM

Γραφικά

128 MB VRAM, Pixel Shader 3.0. : NVIDIA GeForce 6600, ATI Radeon X1300, Intel GMA X4500

DirectX

9.0

Αποθήκευση

17GB
Άλλες λεπτομέρειες
Γλώσσες

Portuguese - Brazil

Spanish - Spain

Αγγλικά

Γαλλικά

Γερμανικά

Δανικά

Ιταλικά

Κινεζικά

Κορεατικά

Ολλανδικά

Πολωνικά

Ρωσικά

Σουηδικά

Τσέχικα

Φινλανδικά

Ημερομηνία κυκλοφορίας

2 Μαρτίου 2021

Εκδότης

Electronic Arts Inc.

Δημιουργοί

Maxis

Λειτουργεί σε