Columbia Sportswear Gift Card 75 USD Key UNITED STATES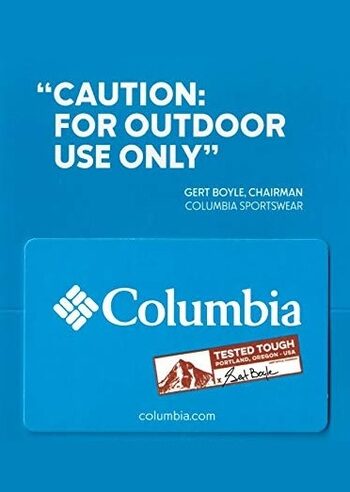 Columbia Sportswear Gift Card 75 USD Key UNITED STATES
Mohlo by se vám také líbit
Popis produktu
Columbia Sportswear Gift Card 75 USD Key
Do you want to look fashionable? Of course, you do! There are tons of amazing fashion e-shops on the internet, offering various things, including the most fashionable and cutting-edge apparel, shoes, beauty products like cosmetics, accessories for men, women, and children with a selection of top brand names, decorations for your home, items made by well-known designers, and even gifts! Yes, fashion e-shops offer gift cards that are essential if you want to look amazing and at the same time save some precious money! Here, in the Eneba marketplace, you can find the best deals on fashion e-shops for a cheaper price. It's time to look beautiful and to make your home anew, and make every day like a holiday! Don't hesitate and buy Columbia Sportswear 75 USD gift card key at a cheaper price today! It's worth it!
What can I use the Columbia Sportswear gift card for?
Take a look at these features of Columbia Sportswear that will please your every need:
• Men clothing. Clothes of various sizes, including jackets, fleeces, shirts, pants, shorts, fishing gear, shoes, and accessories for every man's needs;
• Women clothing. Jackets, fleece, tops, bottoms, and dresses for various sizes, will please every woman;
• Kids clothing. Clothes for both boys and girls of various sizes, including toddlers. Jackets, fleece, tops, and bottoms for the youngest customers;
• Footwear. Shoes for men, women, and children;
• Activewear. Clothes for various kinds of activities, including fishing, hunting, golf, trail running, camping, and more!
• Cheap prices of Columbia Sportswear gift cards!
It's always better with Columbia Sportswear Gift Card!
Keep in mind that with Columbia Sportswear 75 USD gift card key you will get the best service since they improve it all the time. Get ready for unique features such as mobile shopping and new retail partnerships. With Columbia Sportswear gift card you can be sure to get the best shopping experience which is fresh, relevant, and inspiring. It's always easy to shop for clothes, home decor, and other fashionable things online and with this gift card, you will get all that and even more! Get ready for a cheap Columbia Sportswear 75 USD gift card price with Eneba!
How to activate the Columbia Sportswear gift card?
Columbia Sportswear Gift Cards can be redeemed online at www.Columbia.com, www.Mountainhardwear.com, and www.Sorel.com. Gift Cards can be purchased in-store or online using Visa, MasterCard, American Express, or Discover Cards.
To activate a Columbia Sportswear gift card, follow these steps:
• Proceed to the payment section of placing your order. Above the credit card section, click on "Have a Gift Card" or "Promo Code";
• Enter the gift card number into the Gift/Refund Code field and click "Apply";
• Once this is completed, if there isn't a remaining balance you can complete your order. If there is a balance, you will be prompted to enter another method of payment to cover the remaining balance.
Další podrobnosti
Datum vydání

19. dubna 2019