Final Fantasy XIV: Shadowbringers (Complete Edition 2019) Mog Station Key NORTH AMERICA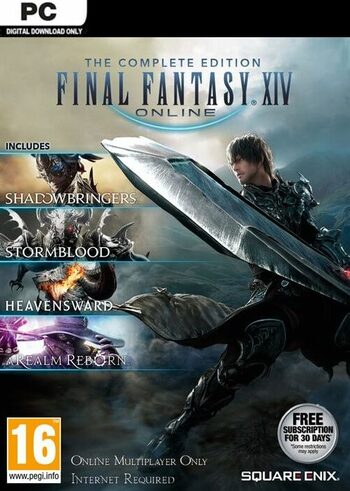 Final Fantasy XIV: Shadowbringers (Complete Edition 2019) Mog Station Key NORTH AMERICA
Litujeme, vyprodáno :(
Chcete tuto hru? Až bude produkt opět k dispozici, můžeme vás upozornit e-mailem.
Oznámení
Severní AmerikaLze aktivovat v

Spojené státy americké

Digitální klíč

Toto je digitální vydání produktu (CD-KEY)

Okamžité doručení
Důležité upozornění:
DOES NOT WORK WITH STEAM VERSION OF THE GAME! Key activates on Square Enix Mog Station Only. To activate code visit: http://sqex.to/FFXIVRedeemCodeEU This product (Complete Edition) can ONLY be activated for Square Enix Mog Station Accounts that do not have any other previous base game (FFXIV) key activations.
Recenze: 0
Mohlo by se vám také líbit
Final Fantasy XIV: Shadowbringers (Complete Edition 2019) key
Buy Final Fantasy XIV: Shadowbringers (Complete Edition) Mog Station key and immerse yourself in an unphased MMORPG experience! The complete edition brings the newest major expansion to the adventure MMORPG by Square Enix. The Shadowbringers expansion promises to add a bunch of game-changing features, loads of new content and activities, and plenty of changes to enhance the user experience even further. Along with the newest expansion, you'll also receive the FINAL FANTASY XIV: A Realm Reborn game, plus the two previous DLCs, Heavensword and Stormblood!
FFXIV - a new beginning
Buy Final Fantasy XIV: Shadowbringers (Complete Edition) Mog Station key and explore new and intricate environments with two new major cities: Crystarium and Eulmore. Also, visit Amh Araeng, II Mheg, Lakeland, and Kholusia. The new and immersive environments will offer plenty of activities, quests, story segments, and tons more! If you're new to the whole deal – the base game plus three grandiose examples will provide you hours upon hours of exploration, wonder, and adventure – now's the perfect moment to enrol into the new adventurers' listing!
FFXIV - plenty of discoveries
As much as the newest expansion concerns, you'll simply fall in love with what the future holds. Buy Final Fantasy XIV: Shadowbringers (Complete Edition) Mog Station key and discover new beast-tribes! Meet and greet with Pixies, Nu Mou, and Dwarves! Alongside the new tribes, you'll also get to face an entirely different kind of enemy monsters, these are called the Sin Eaters. Not only will you be able to fight against these beasts, but you'll also be able to play as two new races yourself! The female-exclusive Viera, and the male-exclusive Hrothgar awaits!
FFXIV - intensity to the MAX
Great War is on the horizon, the all-consuming light shines brighter than ever – but where is light, there's also shadow. Together with the two previous DLCs and the base game, that's far from everything that the new Final Fantasy XIV: Shadowbringers (Complete Edition) Mog Station key is ready to offer. Level Cap gets increased to 80, new instanced dungeons, new high-end raids, new alliance raid series, Quest Repetition System, Trust System, tons of new end-game content, and numerous other game-changing improvements are about to become yours. Are you ready to face the most intense challenges yet?
Concerned with the price? Black Friday Final Fantasy deal should help!
Want even more value?! How about Final Fantasy Cyber Monday deal as an extra?
Systémové požadavky
Minimální systémové požadavky
Systémové požadavky

Windows® 7 64 bit, Windows® 8.1 64 bit, Windows® 10 64 bit

Procesor

Intel® Core™i5 2.4GHz

Paměť

4 GB RAM

Grafika

NVIDIA® Gece® GTX750 AMD Radeon™ R7 260X

DirectX

11

Úložný prostor

60 GB
Další podrobnosti
Jazyky

Angličtina

Francouzština

Japonština

Němčina

Datum vydání

2. července 2019

Vydavatel

Square Enix

Vývojáři

Square Enix

Pracuje na