World of Warcraft: Shadowlands (Epic Edition) Battle.net Key EUROPE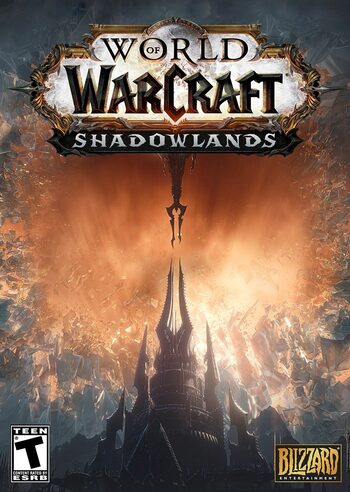 World of Warcraft: Shadowlands (Epic Edition) Battle.net Key EUROPE
Sdílejte to s někým, kdo by to chtěl!
Litujeme, vyprodáno :(
Chcete tuto hru? Až bude produkt opět k dispozici, můžeme vás upozornit e-mailem.
Oznámení
EvropaNelze aktivovat v zemi

Spojené státy americké

Digitální klíč

Toto je digitální vydání produktu (CD-KEY)

Okamžité doručení
Recenze: 0
Mohlo by se vám také líbit
What is World of Warcraft: Shadowlands Epic Edition?
The World of Warcraft: Shadowlands Epic Edition includes:
• All the content of WoW: Shadownlands Heroic Edition;
• 30 days of game time;
• Anima Wyrmling pet;
• Eternal Traveler's effect on Heartstone and an illusion (cosmetic effect) for your weapon (cannot be applied to certain weapon types).
Buy World of Warcraft: Shadowlands Epic Edition key and travel to the other side! Sylvanas has broken the Crown of Domination and opened the way to the Shadowlands! In order to save the Azeroth, you must rally your friends and follow her through the vail. Along the way, you will encounter some of the old friends and foes and will uncover the beauty and terror of the afterlife.
5 new zones
WoW's next expansion will bring 5 brand new zones to explore. Buy World of Warcraft: Shadowlands Epic Edition key and uncover the secrets of Maldraxxus, Revendreth, Bastion, and Ardenweald. After you conclude your adventures in these 4 lands home to certain factions you will earn your right to travel to The Maw, and end-zone of Shadowlands WoW, which will be filled with vicious monsters emprisoned there.
Along the way through the new zones, you will find 8 new dungeons featuring various new enemies and villains of the past. In addition, World of Warcraft Shadowlands will introduce an all-new PvE feature - a rogue-like dungeon called Torghast, Tower of the Damned. This new PvE feature will offer endless possibilities whether you're a fan of solo play or like to play World of Warcraft in a group.
Earn your place in the Covenant
If you decide to buy World of Warcraft: Shadowlands Epic Edition key, you will need to select your personal Covenant which will become the main progression system of WoW next expansion. Ventyr, Necrolord, Kyrian, and Night Fae will be 4 new factions for players to chose and each will offer a different set of skills, abilities and cosmetic outfits.
Systémové požadavky
Minimální systémové požadavky
Systémové požadavky

Windows® 7 64-bit

Procesor

Intel® Core™ i5-3450 or AMD FX™ 8300

Paměť

4GB RAM (8GB)

Grafika

NVIDIA® GeForce® GTX 760 2 GB or AMD Radeon™ RX 560 2 GB or Intel® UHD Graphics 630 (45W TDP)

Síť

Broadband Internet connection

Úložný prostor

(SSD) 100GB Hard Disk (HDD) 100GB

Další poznámky

1024 x 768 minimum display resolution
Doporučené systémové požadavky
Systémové požadavky

Windows® 10 64-bit

Procesor

Intel® Core™ i7-6700K or AMD Ryzen™ 7 2700X

Paměť

8 GB RAM

Grafika

NVIDIA® GeForce® GTX 1080 8 GB or AMD Radeon™ RX Vega 64 8 GB

Síť

Broadband Internet connection

Úložný prostor

(SSD) 100GB

Další poznámky

1024 x 768 minimum display resolution
Další podrobnosti