Paramount Plus Gift Cards at amazing prices!
Tipo:

eCartões

Plataformas:

CBSI Paramount

Regiões:

Estados Unidos

Regiões:

Global

Regiões:

América do Norte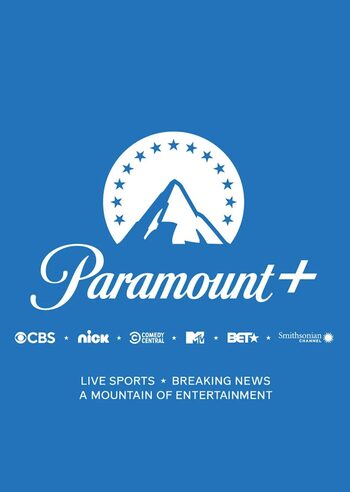 CBSi Paramount Plus 50 USD Gift Card Key UNITED STATES
Estados Unidos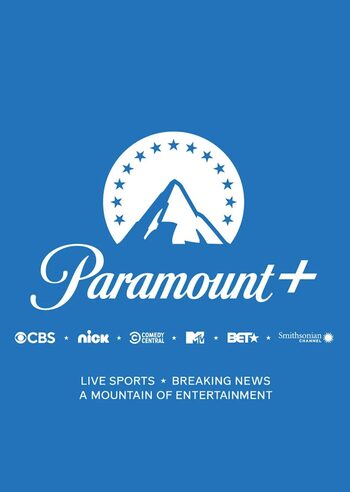 CBSi Paramount Plus 100 USD Gift Card Key UNITED STATES
Estados Unidos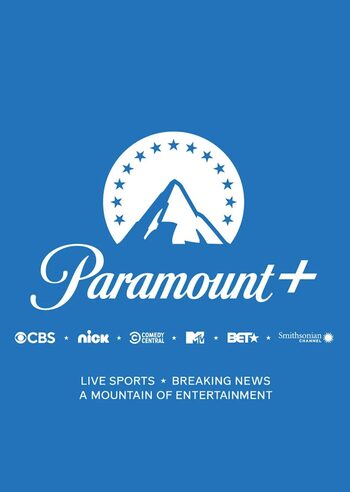 CBSi Paramount Plus 25 USD Gift Card Key UNITED STATES
Estados Unidos
Talvez você também se interesse em:
Gone are the days of waiting in line for movie tickets or rushing to the cinema before the show starts. With a Paramount Plus gift card, you have the power to watch your favorite films at your convenience. Stream them on your smart TV, laptop, tablet, or smartphone – your entertainment is no longer bound by time or location. With a Paramount Plus subscription, you can access an unrivaled collection of movies and TV shows waiting to be discovered. Enjoy an array of genres, from heartwarming romance to spine-chilling horror, from animated movies and cartoons to documentaries exploring various topics and personalities – all conveniently accessible from the comfort of your home. Let the magic of cinema transport you to distant lands and far-off galaxies. Whether it's a solo movie night, a date with a loved one, or a family movie marathon, the Paramount gift card provides limitless entertainment for everyone. Buy Paramount Plus gift card and say hello to a realm of captivating movie magic and binge-worthy TV!
What are Paramount Plus gift cards?
Paramount Plus gift cards are digital vouchers or prepaid cards that hold the key to a treasure trove of entertainment. These gift cards are your golden ticket to Paramount Plus's exclusive online streaming platform, where a universe of movies and TV shows eagerly awaits your arrival. The Paramount Plus card grants you a specific amount of credit, allowing you to tailor your entertainment experience perfectly. Subscribe to Paramount Plus's streaming services and unlock a galaxy of films spanning every genre imaginable. Romantic comedies that make your heart skip a beat? Check. Heart-pounding action that leaves you breathless? Check. Spine-chilling horror that keeps you on the edge of your seat? Double check! The choices are as vast as the cosmos itself, and it's all at your fingertips with Paramount Plus deals here at Eneba!
What can I use the Paramount Plus gift card for?
Paramount Plus gift vouchers unlock a myriad of possibilities for movie and TV lovers. Check out what you can do with Paramount Plus cards:
Stream the latest blockbuster movies. Dive into the world of cinema and enjoy a cinematic experience from the comfort of your own home;
Binge-watch your favorite TV shows. Get lost in the plot twists and cliffhangers of your favorite TV series and see what all the fuss is about;
Discover new and exciting series. Be the first to explore new and exciting TV shows and impress your friends with your impeccable taste;
Explore different genres and expand your entertainment horizons. Step out of your comfort zone and explore different genres, from action-packed thrillers to heartwarming romances;
Enjoy personalized recommendations tailored to your unique tastes. Discover content that perfectly aligns with your interests, and never waste time searching for something to watch again;
Stream content on multiple devices, from smart TVs to smartphones. Whether you're at home, on the go, or traveling, take your entertainment with you and never miss a moment;
Cheap Paramount Plus price.
Why choose a Paramount Plus subscription?
Dive into a boundless world of entertainment with the ultimate game-changer – Paramount Plus subscription! Say goodbye to the ordinary and welcome the extraordinary as you unlock a universe of captivating films and TV shows right at your fingertips. No more settling for the same old options – explore an endless variety of Hollywood blockbusters, timeless classics, and hidden gems that will leave you spellbound. Convenience takes center stage as you transform your cozy couch into a private movie theater, basking in the silver screen magic whenever and wherever you please. The user-friendly Paramount Plus cost nature means unlimited cinematic bliss without breaking the bank. Discover new favorites, bond with family over heartwarming tales, and embrace the power of storytelling like never before – buy Paramount Plus gift cards and escape into the magic of movies!
Where to buy Paramount Plus gift card?
Looking for the best place to buy a Paramount Plus gift card online? You've found it! Whether you're a movie buff, a series enthusiast, or just looking for endless entertainment options, our Paramount Plus deals are wallet-friendly. With a Paramount card, you can subscribe to the basic Paramount Essential plan or go all in for Paramount Plus with SHOWTIME (formerly Premium with SHOWTIME)! Whichever you choose, we got you covered with the best Paramount Plus discount!
How to redeem Paramount Plus gift cards?
To redeem your Paramount Plus card code is easy, just follow these steps:
Visit paramountplus.com/gift;
Enter the PIN, that you received via email;
Choose your subscription plan and start watching Paramount+.
How to cancel Paramount Plus?
If you ever feel like canceling your Paramount Plus subscription, follow these steps:
Visit paramountplus.com;
Click on the username in the upper righthand corner;
Select Account;
Scroll down;
Click Cancel subscription.