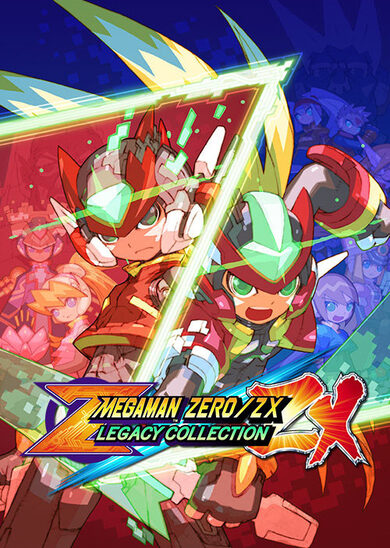 Mega Man Zero/ZX Legacy Collection Steam Key GLOBAL
Pode ser activado: Estados Unidos
Sistemas operativos
Aviso importante:
We inform you that our PRE-ORDER bonuses may not be included and when included, may differ from the other offers available in the market. You will receive your product key upon the game's release date: 2/25/2020
Mega Man Zero/ZX Legacy Collection Steam key
The world is once again at risk and only the Red Hero has what it takes to meet the challenge! Buy Mega Man Zero ZX Legacy Collection Steam key and revisit six classic games updated and released by the infamous Japanese video game company Capcom. These titles include the following: Mega Man Zero; Mega Man Zero 2; Mega Man Zero 3; Mega Man Zero 4; Mega Man ZX and the Mega Man ZX Advent. All of these games feature the famous character from the Mega Man franchise Zero as their protagonist. Enjoy the classic 2D platformers that offer fast-paced action, awesome pixel art style, memorable soundtrack and various "quality of life" upgrades.
Plot set in a distant future
Buy Mega Man Zero ZX Legacy Collection Steam key to further follow the story explored in Mega Man X video games. In the past, Zero and Mega Man fought alongside each other to stop the evil Sigma from destroying the human race. A few hundred years have passed since then, and now the Zero wakes up in a world different than before. Play through six games included in this collection to follow the adventures of the legendary red-armored android.
Zero's abilities
Zero – the supreme creation of the mad scientist Dr.A.W.Wily – has multiple abilities and weapons to use at this disposal, first of which is the lightsaber-like energy sword called Z-Saber. Buy Mega Man Zero ZX Legacy Collection Steam key to roll, slash and dash through waves of enemies! As you go, obtain more weapons like the Triple Rod; Shield Boomerang and Chain Rod – latter of which can be used as a grappling hook by attaching it to the hovering platforms. Unlock powerful new forms through the use of biometals, make Zero stronger and have epic one-on-one stand-offs against the stage bosses!
New features
Classic Mega Man Zero games are resurrected with a handful of new upgrades, added "quality of life" features and modes exclusive to this collection. Those who buy Mega Man Zero ZX Legacy Collection Steam key will get to enjoy original concept art featured in the gallery, listen to the iconic soundtrack through the in-game music player, make custom UI configurations, use a completely new ability to save the game mid-stage or focus on the story by playing in the Casual Scenario Mode. The games will also allow switching between modern and pixel-art graphics as well as toggle between classic and updated character voice-overs. Hardcore fans will also get to try out a plethora of difficulty modes, so buy Mega Man Zero ZX Legacy Collection Steam key and explore the variety of this classic gaming experience!
---
Detalhes do jogo
Um jogador

jogadores múltiplos

Split screen

Side-view
---
Gênero
Sistemas operativos:
Idiomas
Alemão
Chinês
Espanhol
Francês
Inglês
Italiano
Japonês
---
Data de lançamento:
February 25, 2020
Developers
CAPCOM CO., LTD.
Publisher
CAPCOM Co., Ltd.
---
Sistema operativo:
Requisitos mínimos de sistema
Requisitos de sistema: Windows7(64bit)
Processador: Intel Core i3 550 3.2GHz or AMD equivalent or better
Memória: 2 GB RAM
Placa gráfica: NVIDIA GeForce GTX 660 or ATI Radeon HD 7850
Armazenamento: 7 GB available space
Requisitos recomendados de sistema
Requisitos de sistema: WINDOWS7, 8, 8.1, 10 (64bit)
Processador: Intel Core i5 3570 3.4GHz or AMD equivalent or better
Memória: 4 GB RAM
Placa gráfica: NVIDIA GeForce GTX 760
Armazenamento: 7 GB available space