Dead by Daylight (PC) Steam Key GLOBAL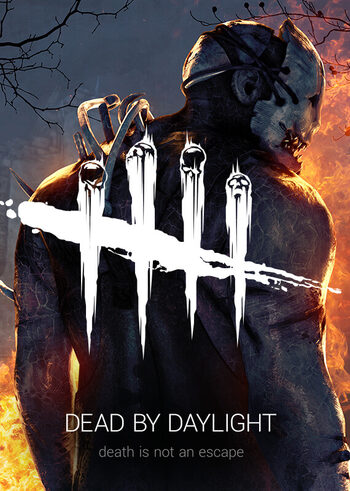 Dead by Daylight (PC) Steam Key GLOBAL
Compartilhe com alguém que gostaria disso!
GlobalPode ser ativado em:

Estados Unidos da América

Chave digital

Esta é uma edição digital do produto (CD-KEY)

Entrega instantânea
9.90

Classificação magnífica

(200k+ vendas nos últimos 6 meses)
Outras pessoas também viram
Avaliações: 128
N4ziZ0

24/08/2020

Traduzido automaticamente

Um ótimo jogo que você pode passar horas jogando com ou sem amigos

ZetaCe

28/08/2020

Traduzido automaticamente

No início, o jogo em si pode não atrair muita atenção, mas depois que você começa a jogar, não consegue mais parar! Muito bom jogo!

Martin The Mcfly

18/08/2020

Traduzido automaticamente

Há muito tempo queria jogar e finalmente consigo fazer um jogo muito bom e garanto-o.

Sheidezuwu

10/07/2020

Traduzido automaticamente

ótimo jogo, muito divertido

Kralixio

12/08/2020

Traduzido automaticamente

O jogo é muito divertido e divertido, talvez os gráficos não sejam o grande, mas a jogabilidade e a imersão que se tem no jogo dão a este jogo um ponto muito positivo,
Dead by Daylight Steam Key
Dead by Daylight is a multiplayer survival horror game developed by Behaviour Digital Inc. Here, you immerse yourself in the thrilling gameplay of hide-and-seek with the main prize being your life! Play either as one of the Survivors struggling to escape the horrors of being chased by a frenzied madman or step into the Killer's role and eliminate your prey one by one. Avoiding the killer in the Dead by Daylight Steam key is no easy task, and playing as a lone wolf can lead to your demise quite quickly. Each map is procedurally generated, the Killers and Survivors have their own progression systems, and the horrors of the Killing Grounds are never-ending! Buy Dead by Daylight Steam key and experience a 4v1 game that will leave you craving for more.
Dead by Daylight features
Play either as one of the crafty Survivors or immerse in the Killer's role in the Dead by Daylight Steam key! Spine-chilling chase sequences and nerve-wracking suspense aren't the only things that will keep you coming back for more in this pulse-pounding game:
• Asymmetrical survival horror game. Dive into an immersive gameplay experience in Dead by Daylight, a 4v1 horror game where you're either the hunter or the prey, battling for survival in a thrilling game of cat and mouse;
• Work together or go alone. You don't have to cooperate with other players if you don't want to, but that might just change the outcome of the game - outwit the Killer alone or together as one in this excellent multiplayer experience;
• No place is safe. Each new session brings a fresh procedurally-generated map on the table, so generators, totems, and spawn locations will be placed at different spots every time as well - you can run, and you can hide, but you can never fully escape the cold grasp of the Killer;
• A variety of ways to kill. Ranging from human to purely supernatural, there are lots of ultimate Killers to choose from in the Dead by Daylight key - pick a favourite, familiarize yourself with the Killing grounds, and unleash your wrath upon the Survivors;
• Deep progression. Both Killers and playable Survivors have their own progression systems, brimming with unlockable skills that change how you play - customize the characters to fit your personal strategy;
• Plenty of additional content. While the base version of the core game is great on its own, each DLC brings fresh faces with original concepts or those ripped straight from some of the greatest horror masterpieces like Halloween, Silent Hill, A Nightmare on Elm Street, and so much more. Play as your favorite Survivors and famous Monstrous Killers with a huge variety of DBL DLCs;
• Cheap Dead by Daylight price.
Frightful yet delightful
The Survivors are only interested in escape, yet avoiding the brutal Killer in the Dead by Daylight PC Steam key is no child's play. Each player can decide whether to cooperate or engage with the Killing Grounds lone-wolf style. The survivors are played from 3rd person view for better awareness, while the powerful Killer works from an intense first-person perspective and is focused exclusively on its prey. If you think you can crack the Dead by Daylight PC key environments and become a master escapist right after a few lucky sessions, think again. Each level for each playthrough is procedurally generated from scratch! Even such factors as spawning points change every single time. However, there are ways to become more experienced and increase your odds of not being slaughtered by the Killer closing in.
Classic Slasher Killer Trope
In Dead by Daylight, classic slasher killer tropes come to life as you face off against iconic horror villains. Prepare to run and hide from relentless, powerful killers who embody the archetypal horror movie antagonists. From the masked slasher wielding a menacing weapon to the stealthy and cunning stalker, each killer brings their own twisted personality and signature methods of hunting down their prey. It's a nerve-wracking harrowing experience and a true battle for survival where you must outsmart and outmaneuver these iconic killers, all while trying to escape their clutches and survive the nightmarish trials of Dead by Daylight.
Strive to get better
For both Survivors and the Killer, the more you survive/spill blood, the better you become at it! And as such, the Dead by Daylight Steam key offers an excellent progression system for both the hunter and prey. Create your personal strategy, unlock numerous traits, skills, and abilities to outwit your foe, and tailor your chosen character's playstyle to best suit your strategies. The whole experience is heightened thanks to the chilling ambiance, gloomy atmosphere, and decrepit environments, so you can be sure that all the emotions you feel whilst playing will haunt you for months to come! So buy Dead by Daylight Steam key and experience one of the most famous multiplayer horror games ever created. Only the most daring players will survive!
Requisitos de sistema
Requisitos de sistema mínimos
Requisitos de sistema

64-bit (Windows 7, Windows 8.1)

Processador

Intel Core i3-4170 / AMD FX-8120

Memória

8 GB RAM

Placa de vídeo

GTX 460 / AMD HD 6850

Armazenamento

25 GB

Observações

With these requirements, it is recommended that the game is played on Low quality settings.
Requisitos de sistema recomendados
Requisitos de sistema

64-bit (Windows 7, Windows 8.1)

Processador

Intel Core i3-4170 / AMD FX-8300

Memória

8 GB RAM

Placa de vídeo

GeForce 760 / AMD HD 8800

Armazenamento

25 GB
Outros detalhes
Língua

Alemão

Coreano

Espanhol

Francês

Inglês

Italiano

Japonês

Polonês

Portuguese-Brazil

Russo

Simplified Chinese

Tailandês

Traditional Chinese

Data de lançamento

14 de junho de 2016

Distribuidora

Behaviour Interactive

Desenvolvedores

Behaviour Interactive

Funciona em