ARMORED CORE VI FIRES OF RUBICON Pre-Order Bonus (DLC) (PC) Steam Key UNITED STATES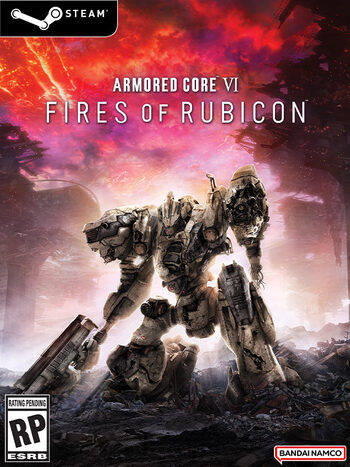 ARMORED CORE VI FIRES OF RUBICON Pre-Order Bonus (DLC) (PC) Steam Key UNITED STATES
Compartilhe com alguém que gostaria disso!
Oferta mais barata
Compre como presente
Receba este produto como presente em PDF.
Procurando boas ofertas?
Receba as ofertas em sua caixa de entrada
Available at checkout:
Estados UnidosPode ser ativado em:

Estados Unidos da América

Chave digital

Esta é uma edição digital do produto (CD-KEY)

Entrega instantânea
Outras pessoas também viram
Avaliações: 0
Descrição do Produto
ARMORED CORE VI FIRES OF RUBICON Pre-Order Bonus (DLC)
Get ready for an adrenaline-fueled gaming experience like no other! Bandai Namco Entertainment and FromSoftware are joining forces once again to unleash an epic action game that will blow your mind. Brace yourself for ARMORED CORE VI FIRES OF RUBICON, a game that merges FromSoftware's unrivaled mastery in mech games with their trademark action-packed gameplay. In this thrilling adventure, you become the master of your own destiny as you construct your very own mech. With an incredible array of parts and weaponry at your disposal, you'll have the freedom to customize your mechanical marvel to perfection. But that's just the beginning! Prepare to enter a world where three-dimensional mobility reaches new heights. The mission locales in ARMORED CORE VI FIRES OF RUBICON redefine what it means to soar through the skies. No obstacle is too great as you navigate these breathtaking environments with unparalleled freedom. But be warned: formidable enemies stand in your way, ready to unleash chaos. Will your mech emerge victorious? There is only one way to find out – buy ARMORED CORE VI FIRES OF RUBICON Steam key!
ARMORED CORE VI FIRES OF RUBICON game features
In ARMORED CORE VI FIRES OF RUBICON, get ready to experience an array of exciting features that will immerse you in the world of mechs like never before:
• Dynamic Battles. Engage in high-octane, omni-directional combat as you pilot your powerful mech through adrenaline-pumping battles. Harness the full potential of your mech's exceptional mobility on both land and in the air to secure triumphant victories across expansive stages;
• Customize Your Mech. Customize your mech's buildout between missions. With a robust customization system, handpick and equip preferred parts to transform your mech according to your playstyle, maneuverability, and combat approach;
• Thrilling Boss Battles. Engage in a thrilling battle against formidable enemy bosses by employing a diverse range of offensive and defensive tactics. Whether it's unleashing devastating attacks up close or delivering precision strikes from a distance, adapt your strategies to overcome these powerful adversaries and emerge victorious;
• Cheap ARMORED CORE VI FIRES OF RUBICON price.
In the fires of Rubicon
Discovered on the remote planet Rubicon 3, a mysterious substance once held the promise of technological advancement for humanity. However, its unexpected aftermath caused a cataclysm that plunged the planet and surrounding stars into a blazing storm, forming the infamous Burning Star System. Now, after nearly half a century, this very substance has reemerged on the contaminated and sealed-off Rubicon 3. As extraterrestrial corporations and resilient resistance groups vie for dominance, an independent mercenary infiltrates Rubicon, thrust into a fierce struggle over the enigmatic substance against rival factions. In this battle for control, the fate of Rubicon hangs in the balance, as factions clash in their relentless pursuit of power. Will you join the fray, shaping the destiny of Rubicon and emerging victorious amidst the chaos? Brace yourself for a gripping adventure where allegiances are tested, rivalries ignite, and the elusive substance holds the key to ultimate control with ARMORED CORE VI FIRES OF RUBICON Steam key!
Requisitos de sistema
Requisitos de sistema mínimos
Suporte 64 bits

Sim

Requisitos de sistema

Windows 10

Processador

Intel Core i5-8600K or AMD Ryzen 3 3300X

Memória

12 GB RAM

Placa de vídeo

NVIDIA GeForce GTX 960, 4 GB or AMD Radeon RX 480, 4 GB or Intel Arc A380, 6 GB

DirectX

12
Outros detalhes
Língua

Data de lançamento

25 de agosto de 2023

Distribuidora

FromSoftware Inc.

Desenvolvedores

FromSoftware Inc.

Funciona em