PlayStation Network Card 100 CAD PSN Key CANADA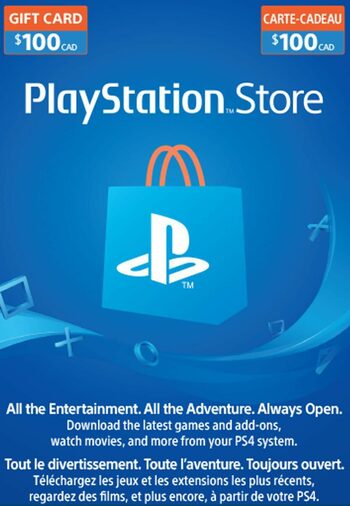 PlayStation Network Card 100 CAD PSN Key CANADA
Oferta mais barata
Selected:

100 CAD
O preço não é definitivo
Preço mais baixo
Compre como presente
Receba este produto como presente em PDF.
Available at checkout:
CanadáNão pode ser ativado em

Estados Unidos da América

Chave digital

Esta é uma edição digital do produto (CD-KEY)

Entrega instantânea
Funciona em:
PlayStation 3
PlayStation 4
PlayStation 5
Aviso importante:
No expiration date. Code is valid only for the Canada PSN store. Make sure that your account is registered to Canada.
9.86

Classificação magnífica

(10k+ vendas nos últimos 6 meses)
Outras pessoas também viram
Descrição do Produto
Is PSN Card 100 CAD worth it?
Acquire the PlayStation Network Card 100 CAD key for your (CA) PSN account and increase your account's funds in an instant! What further steps regarding your purchases will you take, depends entirely up to you! The PS Store is huge, and accordingly, it offers a whole variety of content made explicitly to meet even the most demanding gamer's needs. The platform has both, free-of-charge content, as well as services hidden behind a monthly subscription fee. With this key though, there's no need to hide and seek.
Flip a Coin, Present a Gift
Purchasing this for your own personal gain is just one side of the coin – purchasing this for someone you hold dear and cherish, is the other. The commodity of choice is always with you. The PlayStation Network Card 100 CAD serves as the perfect gift for anyone who, even remotely, relates to the PlayStation Network! And If you're not particularly sure that this is the amount you need; we have plenty of different value keys to meet your needs – effort and good intentions are never forgotten, keep it in mind!
Easy Acquisition, Fast Delivery
So, what do you do once the PSN Card is in your palm? First, you need to log into a designated PSN account and activate the Card by entering the key code which you've received in your email. If you're new to the PSN Network, the instructions on how to activate the PlayStation Network Card 100 CAD (or any other key card for that matter) are located at the very bottom of this sum-up. Check it out for fast, convenient, and simple usage. Once activated, the set PSN account gets an additional 100 CAD – the time for some quality entertainment has come!
Quality and Quantity
If quality is what's on the menu, let's check the list of available dishes. And these are more than just a few neat dishes from which you can choose. 100 CAD is quite the right amount for a good stroll around the block! The PSN store holds thousands of games, movies, bundles, add-ons, various editions, special offers, and even such trademark services as PlayStation VR, PlayStation Plus, PlayStation Now & PlayStation Vue! Buy PlayStation Network Card 100 CAD key and uncover an experience worthy of your time and effort!
Convenient Purchase
Of course, you may argue that the 100 CAD is not quite enough to buy the latest AAA release, though, the PSN network offers you at least two solutions that'd cover the difference between the game's price and your Gift Card's value. For the most convenient purchase, simply choose one out of numerous different payment measures, a good example would be the use of a credit card to cover the rest of the amount. And honestly, you can always just buy a higher-valued gift card or even activate two in a row if you're feeling wild! Purchase your games the way you want to.
Nay to Expiry Date
Buy the PlayStation Network Card 100 CAD even if you're not planning to use it anytime soon. Their prices are shifting from time to time, and if you catch the right moment, you can snatch it for a price much lesser than the funds it adds. And if you are concerned with the gift card's expiration date – don't be! Because there is no expiry date on these. You buy it, and it's yours for a lifetime, you gift it, and it's someone else's for a lifetime too (for a lifetime or at least until it's finally activated). So, activate it wherever, and whenever… the flow of time affects mostly everything, not these Gift Cards though.
Profile Personalization
If you're into the most satisfying user experience, all the different options on how to personalize your PSN account should be on your radar as well! Buy PlayStation Network Card 100 CAD and make your user profile the coolest it can be. The ability to personalize your profile adds a ton to the overall experience – dynamic themes, an array of add-ons, captivating avatars and numerous other astonishing account-oriented enhancements are sure to make your day, week, month, and even year, a whole lot more colourful, and sweet. Create a profile of your dreams with seamless ease and ingenuity, millions of players already did it!
More for Less
So, don't wait until the flow of time affects your skill, and reflex – buy the PlayStation Network Card 100 CAD today, gift it, activate it yourself, and enjoy the well-rounded content that the PlayStation Network provides. If you've never used the PS Card before, now's probably the best time, why? Because there is no wrong time to enjoy the top-notch quality content created by the most creative minds in the gaming industry. It's also worth noting that the higher the Gift Card's value, the lesser is its price – get more for cheaper, such is the deal with these!
Seamless Activation
If you want to activate the digital code in a convenient, easy, and simple manner – walk through the following steps below, it's not difficult at all.
• Buy PlayStation Network Card 100 CAD (CA) key
• Check your email (the key could be delivered in a moment's notice after your purchase)
• Once you're on your PS Dashboard, click to enter the Store
• Once in the Store, scroll down to the very bottom and click on Redeem Codes
• A request should pop up. Enter the prepaid PS Card number (the one from your Email)
• Congratulations, 100 CAD funds are now yours to rock!
There's one more way to activate your PlayStation Network Card 100 CAD (or any other Gift Card for that matter), for some, this one might be even more convenient. For the alternative activation, follow these steps.
• Pick a list of items that you want to purchase
• Add them to your Cart
• When you've selected the items you want to acquire, click on Proceed to Checkout
• Once the menu for payment selection pops up, click on the Redeem Codes and Gift Cards
• Voila! Not only did you just activate your PS Card, but you've also paid for your purchases!
Outros detalhes
Data de lançamento

29 de novembro de 2013

Distribuidora

Sony Online Entertainment

Desenvolvedores

Sony Online Entertainment