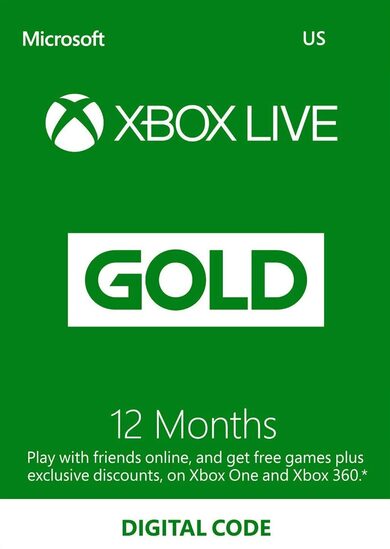 Xbox Live Gold 12 months Xbox Live Key UNITED STATES
Can be activated in United States
Works on
Important Notice:
No expiration date. The product works ONLY in countries that have XBOX LIVE service available: https://www.xbox.com/en-US/live/countries . Make sure that your account and IP is LOCATED in one of the supported countries!
Xbox Live Gold 12 months
Buy Xbox Live Gold 12 months subscription card and immerse in one of the broadest and best social entertainment networks in the world! If you're one of the proud owners of Xbox One, Xbox 360, or both – Gold services are an absolute must! Why? Because, with Gold membership, you can enjoy everything that the Xbox Network offers, and there's plenty on offer here; free games, probably the most advanced multiplayer, Games with Gold and Deals with Gold features, and way more!
New to Xbox Live Gold?
Gaming on Xbox One is awesome, there's no denying to it, but once you try gaming on your Xbox One with Xbox Live Gold 12 months membership loaded, there's no coming back! Gaming is simply better with Live Gold, and if you think otherwise, you probably haven't even tried it yet! If that's the case, here at Eneba marketplace we also offer a 14 days Live Gold Trial card! Snatch it in a split second and embark on two weeks' journey through a sea of possibilities!
Complete Freedom with Gold
And truly, a lot is possible throughout the 12-months period which this subscription card provides you with. In essence, the Xbox Live Network is a free-of-charge social entertainment platform, however, some of its best and most beneficial features are only accessible through a monthly subscription fee. So, if you want to get the access to everything on stock, you simply must buy Xbox Live Gold 12 months subscription (or any other monthly subscription card for that matter).
Worldwide Community
So, let's talk about some of the features that you are going to receive right from the very moment you purchase and activate your digital key on your Xbox Live Account. First one is, of course, the community! Join the broadest and widest community of gamers united by one of the most reliable, well-rounded, and astonishing console gaming networks out there. The Xbox Live Gold player base forms and branches off into a whole variety of clubs and groups, don't shy away, and find new friends within a moment's glance!
Free Games Every Month
Buy Xbox Live Gold 12 months subscription and not only take your gaming experience online, but also receive for up to (2 - 4) free games each month! Not only will you be able to play through them and see what they're about, but you'll also get to keep them even after their free-to-play period's duration ends! If you think about it – that's 24 to 48 free games per year. We'll repeat the number just so it would stick with you better. 24 to 48 games per 12 months, entirely free of any additional charges, and the best part… you get to keep them all as long as your subscription is active.
Deals with Gold
And that's far from everything that Xbox Live Gold 12 months subscription delivers. Oh no, there's far more up ahead, and if you're a hardcore gaming enthusiast, you're sure to love it! Buying games is an activity that you enjoy? Acquiring the newest releases is what you desire? Catching a nice deal puts a nice smile on your face? Well… with Xbox Live Membership you'll be able to acquire games with up to 50-75% discount, right from the Xbox store! Members-exclusive discounts only apply to certain games, however, throughout your 12 months membership period it's more than likely that you'll save a pretty penny with these captivating deals.
For Your Ultimate Entertainment
With breath-taking multiplayer action and up to 75% discounts in the store, Xbox Live Gold 12 months subscription is better than it ever was. Both regular and monthly subscription requiring services are compatible with Xbox One and Xbox 360. The platform was created for gaming and content distribution and it flawlessly serves this purpose up until today. The free version of Xbox Live service lets you use many different apps, chat with your friends, download selected items from the Xbox Live store and share the profile you've created. Xbox Live Gold service is even better because for a low monthly price it opens an entirely different realm of possibility!
Finest Matchmaking System
Experience heart-pounding action moments and cooperate with your friends. With Xbox Live Gold 12 months you can be a part of the multiplayer community and find your opponents with Xbox Live Gold advanced matchmaking system. This system is designed to match you with players of similar skill level as yourself for a fun and fair experience. Don't want to compete against the fiercest of opponents? Join a group of friends and embark on the co-op adventure as a team – there aren't really that many feelings which can compete with camaraderie and companionship! Strength is in numbers and everything is more fun together. Buy your Xbox Live Gold 12 months and have fun online!
Two Ways to Activate
Okay, so you've bought the Xbox Live Card (any card), what's next? How to receive all the above-mentioned benefits? How to activate this key? What's this code all about? Look no further because you're fully covered! Here are the two most convenient ways on how you can activate your prepaid key codes!
If you are using an Xbox One console:
When on the Home screen, go to the Store selection
• Find Categories selection, choose Games option
• Choose the Use a Code feature (or shout out at your controller – Xbox, use code!)
• Sign in if prompted
• Your prepaid key will either come in the form of a QR code, or the 25-character code.
• In the case of QR code hold it to your Kinect sensor. In the case of the 25-character code, simply enter it by hand.
If you want to activate your Xbox Live Gold 12 months key via Web Browser
While in a browser, select the Redeem code feature
• Click on Sign In option
• Log into your Microsoft account
• Click on Redeem option
• Enter the 25-character code and click Confirm
• Enjoy your purchase!
---
Release date:
September 3, 2013
Developers
Microsoft Studios
Publisher
Microsoft Studios
---