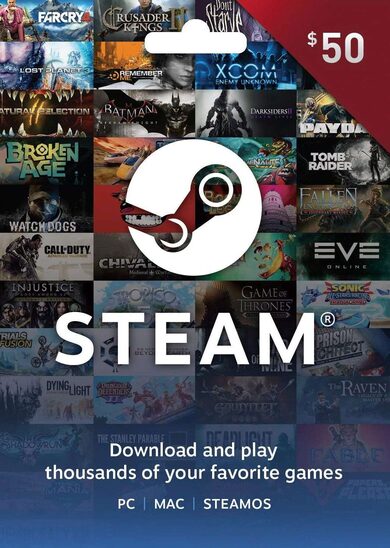 Steam Wallet Gift Card 50 USD Steam Key GLOBAL
Can be activated in United States
Works on
Important Notice:
No expiration date.
Steam Wallet Gift Card 50 USD
Steam Wallet Gift Card 50 USD is one of the most popular purchases amongst millions of PC players from all over the place. Steam is a platform with a hefty variety of game-oriented content for sale. The fifty extra USD in your Steam wallet allows you to acquire pretty much any available game – grab it now and enhance your experience!
The offer can be used in more than one way too! While you can certainly use it for your own good and load your Steam account with additional funds, you can also surprise your gamer friend or a family member! It's called a Steam Wallet Gift Card 50 USD for a reason, and that reason is shared happiness!
Why is it beneficial to use a Steam Card, you may ask? It's a very good question and here are the answers. These cards have no expiration date – and that means you can use it, however, and whenever you want. These cards are secure, simple, and very convenient to use, single purchase, instant acquisition, limitless possibilities!
The deal with these Gift Cards is also very beneficial for players who like to save with each purchase. Buy Steam Wallet Gift Card 50 USD, receive the 50 USD directly into your Steam Wallet, however, always pay less! The prices on the gaming market are constantly varying, and as such, none of these cards ever cost as much as they offer!
If you've completed your purchase already, and don't know what to do next – follow these simple steps and activate it with ease and convenience. Load Steam Account, click on Steam Wallet, select 'Redeem a Steam Wallet Gift Card or Wallet Code' feature, enter the key code you've received in your email. Once finished, the funds will reach your account within seconds! Have fun!
---
Release date:
September 10, 2013
---