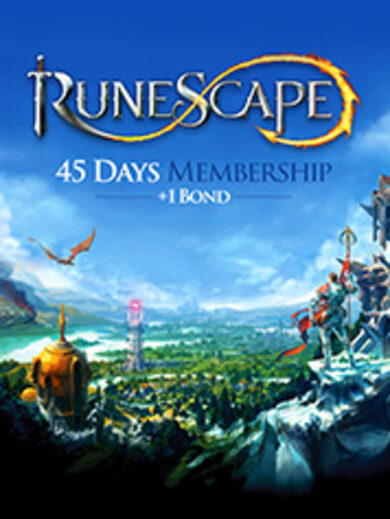 RuneScape 45 Day Membership + 1 Bond Key EUROPE
Can't be activated in United States
1

other offer
RuneScape 45 Day Membership + 1 Bond
Buy RuneScape 45 Day Membership and discover what it truly means to be a hero. With hour upon hours of new content, you will surely find the best way to spread the word of your good deeds. Follow quests or go explore on your own, the world is your playground, so take advantage of that.
Remake yourself
Once you become a member, there are quite a few improvements you can get for your character. One of the more important ones is the upgrade of skills. The same skill that you carried over from the free to play version will now have slight changes or additions. Buy RuneScape 45 Day Membership and experience it for yourself: smithing and crafting allow for the creation of deliberately powerful items, meant for the premium content, while the battle skills and magic also become more powerful due to these upgrades.
Another important thing is the absolutely new skills the player gets. Among them is constructing, which allows you to build an actual house. Yup, you can now build your own place in this wild wild world! Or maybe summoning is more up your alley, granting you companions from the Spirit plane. If you want to improve your gameplay, buy RuneScape 45 Day Membership and jump right it!
Minigames!
If you want to take a break from the questing and battling, but still spend time productively, you can! Minigames are little side tasks that grant you certain items as a reward; some of them are harder than others, but the earned items grow in value as well! Many of the minigames are mean to be members only, so no free to play players will be able to get the rewards, among which there are spells, armour and weapons.
Minigames can also help you increase your desired skills faster, as they offer a bonus to skill's levels. Buy RuneScape 45 Day Membership and you may increase your funds as well, as minigames can grant you items that could be sold for a pretty price.
Quests and more
With new places come new quests. These will grant you all manner of rewards, some more useful than others, but they are always entertaining! Members will find that their journey is enhanced by plenty new quests, as compared to the F2P, making your character stand out and charge ahead, without grinding too much or too long (no one likes that!).
---
Release date:
June 16, 2012
---