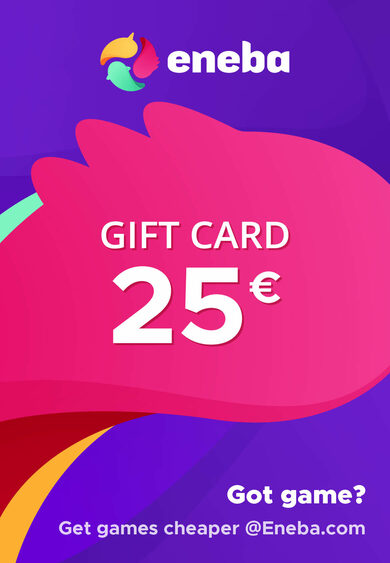 Eneba Gift Card 25 EUR GLOBAL
Eneba is a platform that accommodates reliable and verified suppliers of digital games. Offers marked as "Eneba Official" mean that you are buying that game directly from Eneba, not from the 3rd party supplier on the platform.
Our platform gives you freedom of choice from who you want to buy your game. The level of service and support is exactly the same for Eneba Official and other suppliers.
Publisher

Official
Eneba
|
Publisher
Eneba
Important Notice:
No expiration date.
Eneba Gift Card 25 EUR
Eneba Gift Card is the ultimate key to unlock a fast, safe, and practical gaming experience!
Buy Eneba Gift Card 25 EUR and be prepared to surprise anyone whenever the time feels right, or simply stock up your own account wallet, and be ready to snatch those best game deals in a moment's glance!
Eneba Gift Card 25 EUR key is a single code which, if used correctly, will fill up your Eneba Wallet with those well-appreciated coins!
To Redeem the Eneba Gift Card key simply click on the box atop the right side of the screen, select 'redeem gift card' feature, enter your gift card code, apply and voilà! Your account should receive the 25 EUR funds within seconds!
All you need to do now is pick your desired game or wait for that upcoming weekly sale. With just a few clicks acquire the games you desire!
Eneba Gift Card is simple, fast, safe, and sincerely the most convenient way to buy digital video games on Eneba!
Got excited?!
---
Release date:
March 1, 2019
---