DAZN 12 Month Subscription Key GERMANY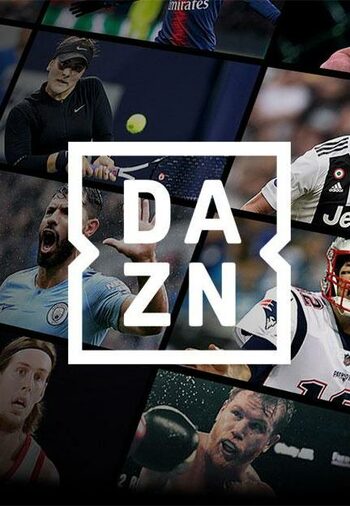 DAZN 12 Month Subscription Key GERMANY
Viktig notering:
The product has no pre-set expiration date.
Produktbeskrivning
DAZN 12 Month Subscription
If you are a fan of boxing, check out DAZN gift cards and immerse yourself into the ground-breaking live and on-demand sports streaming service. With this gift card, you will be able to enjoy your favorite sports whenever you wish. And you won't need a cable or satellite to enjoy the most exciting entertainment out there. Buy the DAZN 12 month subscription key at a great price here and forget worrying about where to watch the most thrilling fights!
What is DAZN?
DAZN is a streaming service dedicated to boxing. You can watch your favorite boxing matches with the DAZN app on various devices, including smart TVs, set-top boxes, streaming sticks, smartphones, tablets, PCs, and game consoles, anywhere you want. This service operates in more than 200 countries worldwide, so it's accessible almost anywhere! But that's not all, because DAZN also offers streaming live fight nights, daily boxing shows, classic fights, and documentaries. All in all, if you are at least a little bit interested in boxing, then this DAZN 12 month subscription key is just a must-purchase for you!
DAZN subscription features
Get to know these subscription features that will please every fan of boxing:
• Live streaming. Stream how you want, when you want. DAZN is available on smart TVs, game consoles, connected devices, mobile, tablets, and computers;
• Classic fights. Re-watch the best classic fights from the past;
• Documentaries and features. Get to know your favorite boxers, hear their stories, and know their secrets;
• Ability to cancel anytime. If you decide this service is not for you, you will be able to cancel anytime;
• Cheap DAZN 12 month subscription key price.
Where to buy a DAZN gift card?
You can purchase a DAZN gift card at the official website, but you can always find cheaper solutions, when buying from third-party resellers, such as Eneba. We offer amazing prices and deals, so if you are looking for ways to stretch that budget, find codes at the best prices here. Get DAZN 12 month subscription key now and enjoy the best sporting events from anywhere you want!
How to activate my DAZN subscription?
Follow these easy steps in order to activate your DAZN subscription:
• Go to dazn.com/redeem;
• Enter your code in the provided box;
• Press "Confirm";
• You will have to create your account on the DAZN website if you don't have one already.
Andra detaljer
Utgivningsdatum

1 augusti 2016

Utgivare

DAZN

Utvecklare

DAZN