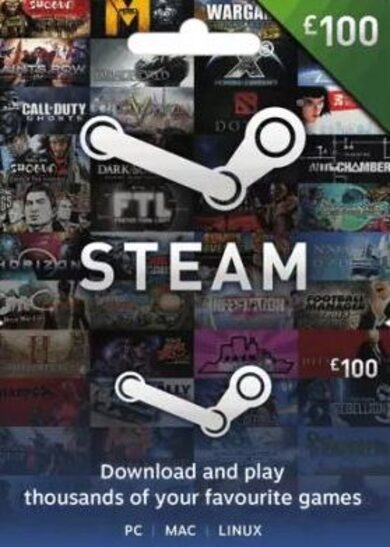 Steam Wallet Gift Card 100 GBP Steam Key UNITED KINGDOM
Important Notice:
No expiration date.
Steam Wallet Gift Card 100 GBP
Buy Steam Wallet Gift Card 100 GBP and get into the world of PC gaming head-on! If you have a solid PC and a keen interest in video games, Steam comes as one of the most convenient, easily accessible, and informative platforms on the market with a hefty variety of games and DLCs ready waiting for your pick.
The 100 GBP card, in particular, is huge, and the purchases you can make with it in your possession are also huge. Explore the vastness of the platform and choose whatever you desire, 100 GBP is plenty to acquire whatever your heart whispers. From the newest AAA releases to the most popular Indie titles, all are located within the reach of your palm.
Buy Steam Wallet Gift Card 100 GBP even if you yourself are not intending to use it. After all, the digital item is named as a Gift Card for a reason. Make a rad surprise for those you care for, whether it's your gamer friend or a family member – 100 GBP Steam Wallet boost is sure to lift the spirit of any gaming fan.
It's worth noting, these Card keys come with no expiration that, and that means that once you purchase it, you are by no means obligated to insta-activate it. Take your time, wait for the right moment, and then strike with all the world's might. Acquire games on your conditions, in your terms, at your pace – that's what Steam is about!
Buy Steam Wallet Gift Card 100 GBP, and once it's already in your possession, activate it within a minute! Log into Steam Account click on Steam Wallet and press the 'Redeem Steam Wallet Gift Card or Wallet Code' button. You'll quickly be prompted to enter the key code you received – do so and that's it. The funds will reach your Steam Wallet within seconds. Your gaming experience starts now!
---
Release date:
September 10, 2013
---