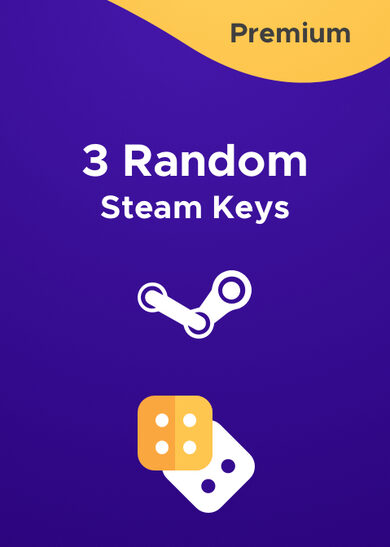 3 Random Premium Steam Keys GLOBAL
Important Notice:
The following product can include Steam CD-Keys of randomized values. The Buyer accepts full responsibility if the purchased product is incompatible with a certain type of hardware, operating systems etc. (Neither games incompatible with Apple PCs, nor the games requiring higher system capabilities than that of the Buyer's hardware are eligible for a refund, or any other form of compensation). With the limited seller stock, it's worth keeping in mind that the seller can't be held responsible for a refund of the repeating keys.
3 Random Premium Steam Keys
Looking for a way to buy some solid games cheaper? You might as well try your luck with a Random PREMIUM Steam Key! With this product you'll most certainly end up getting more than your money's worth!
The unique 3 CD-keys can be activated on Steam platform.
Having base Steam prices in mind, every single Random PREMIUM CD-Key you purchase, has a minimum value of 9.99 € and most likely way more!

Community knows best, and you are a definite part of it! No demos, DLCs, or free games on the lottery wheel!

Purchase your 3 Random PREMIUM Steam Key, right here, right now — enjoy your earnings till the end of time!
Languages:
---
Release date:
November 1, 2018
---