NBA 2K22: 35000 VC (Nintendo Switch) eShop Key UNITED STATES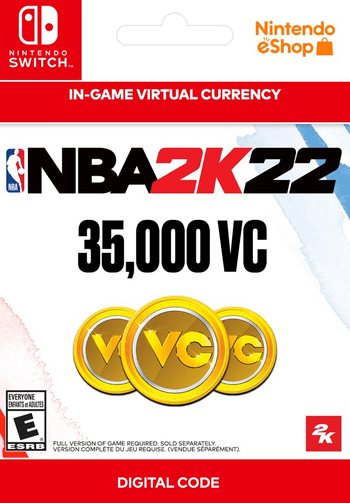 NBA 2K22: 35000 VC (Nintendo Switch) eShop Key UNITED STATES
Share with someone who would like this!
Соединенные ШтатыМожно активировать в

Соединенные Штаты Америки

Check

Цифровой ключ

Это цифровая версия продукта (CD-KEY)

Мгновенная доставка
Вам также может понравиться
Описание продукта
NBA 2K22: 35000 VC
Take your game to the next level with the NBA 2K22: 35000 VC Nintendo Switch Key. You can use your VC either in MyCareer, MyTeam or MyGM/MyLeague game modes to buy valuable additions and attributes that will give you an edge over your opponents. While VC can also be grinded out during endless hours of play, purchasing some gives the possibility of fair competition to those that cannot spend all day, every day, playing the game they like.
Using NBA 2K VC in MyCareer
MyCareer is an extremely popular game mode in NBA 2K games that allows you to create a player and build their career step by step, personally taking part in every little bit of the development. In this game mode, you can spend your NBA 2K virtual currency on improving the attributes of your player's game, which then allows for a better in-game performance. In other words, VC is the key to maximising the potential of your player.
Using NBA 2K VC in MyTeam
Just like with MyCareer, you can use your NBA 2K22: 35000 VC Nintendo Switch Key to improve your potential in the game, however, instead of adding attributes, you can earn better players and other additions for your team. You can do so by buying various packs that contain players, coaches, contracts, and more. Alternatively, you can also use VC to straight-up buy contracts in MyTeam, without which the players that you do have cannot take part in games.
NBA 2K Virtual Currency in MyGM and MyLeague Modes
The MyGM and MyLeague game modes are ones that do not really require investments of VC to enjoy the game at a high level. While you can spend it on a few things, such as off-season training camps, the general consensus amongst NBA 2K players is that VC is best spent on the MyTeam and MyCareer modes.
How do I redeem a code on Nintendo Switch?
• Go to Microsoft.com/redeem (Microsoft or Nintendo Switch Live account required);
• Enter the 25-digit code;
• Download and play.
Другие детали
Языки

Дата выпуска

10 сентября 2021 г.

Издатель

2K

Разработчики

Visual Concepts