Europa Universalis IV (DLC Collection) Steam Key GLOBAL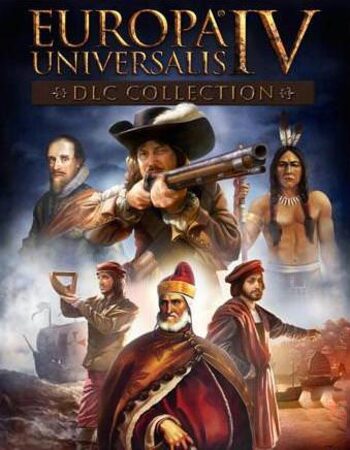 Europa Universalis IV (DLC Collection) Steam Key GLOBAL
Un singur jucător

Mai multi jucători

Vederea păsărilor
Ne pare rău, vândut :(
Vreți acest joc? Vă putem notifica prin e-mail atunci când produsul devine din nou disponibil.
Notificare
GlobalPoate fi activat în

Statele Unite Ale Americii

Cheie digitală

Aceasta este o ediție digitală a produsului (CD-KEY)

Livrare instantanee
Gamerii au văzut de asemenea,
Recenzii: 0
S-ar putea sa-ți placa, de asemenea
Descrierea produsului
Europa Universalis IV (DLC Collection)
Europa Universalis IV DLC Collection includes all the released expansions, unit packs, and upgrade packs to the critically acclaimed strategy management game Europa Universalis IV!
Europa Universalis IV (DLC Collection) edition features:
• Europa Universalis IV: Pre-Order Pack
• Europa Universalis IV: The 100 Years War Unit Pack
• Europa Universalis IV: The Purple Phoenix Expansion
• Europa Universalis IV: Digital Extreme Edition Upgrade Pack
• Europa Universalis IV: The Stars and Crescent Pack
• Europa Universalis IV: The Horsemen of the Crescent Unit Pack
• Europa Universalis IV: The Conquest of Constantinople Music Pack
• Europa Universalis IV: Call-to-Arms Pack
• Europa Universalis IV: The Winged Hussars Pack
• Europa Universalis IV: The National Monuments Pack
• Europa Universalis IV: American Dream
• Europa Universalis IV: National Monuments II
• Europa Universalis IV: Conquistadors Unit pack
• Europa Universalis IV: Native Americans Unit Pack
• Europa Universalis IV: Songs of the New World
• Europa Universalis IV: Conquest of Paradise
• Europa Universalis IV: Native Americans II Unit Pack
• Europa Universalis IV: Colonial British and French Unit pack
• Europa Universalis IV: Muslim Advisor Portraits
• Europa Universalis IV: Wealth of Nations
• Europa Universalis IV: Muslim Ships Unit Pack
• Europa Universalis IV: Trade Nations Unit Pack
• Europa Universalis IV: Res Publica
• Europa Universalis IV: Indian Subcontinent Unit Pack
• Europa Universalis IV: Indian Ships Unit Pack
• Europa Universalis IV: Republican Music Pack
• Europa Universalis IV: Songs of Yuletide
Cerințe de sistem
Cerințe Minime de Sistem
Cerințe de sistem

Windows XP / Vista / 7 / 8

Procesor

Intel Pentium IV 2.4 GHz

Memorie

2 GB

Grafica

512 MB
Alte detalii