Euro Truck Simulator 2 - Platinum Edition Steam Key GLOBAL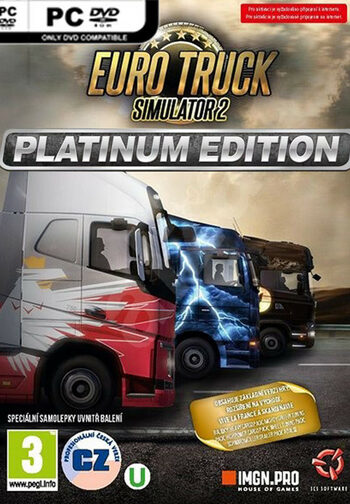 Euro Truck Simulator 2 - Platinum Edition Steam Key GLOBAL
Ne pare rău, vândut :(
Vreți acest joc? Vă putem notifica prin e-mail atunci când produsul devine din nou disponibil.
Notificare
GlobalPoate fi activat în

Statele Unite Ale Americii

Cheie digitală

Aceasta este o ediție digitală a produsului (CD-KEY)

Livrare instantanee
Gamerii au văzut de asemenea,
Recenzii: 0
S-ar putea sa-ți placa, de asemenea
Descrierea produsului
Euro Truck Simulator 2 - Platinum Edition
Euro Truck Simulator 2 (Platinum Edition) includes your ultimate trucker experience with a single purchase. Traverse the very best this game has to offer, reach the farthest and most isolated landscapes of the world, and enjoy immersive trucker experience like never before.
Euro Truck Simulator 2 (Platinum Edition) offers one of the best options for the best trucker experience right from the comfort of your home!
• Euro Truck Simulator
• Euro Truck Simulator 2
• Scandinavia
• High Power Cargo Pack
• Ice Cold Paint Jobs Pack
• Viking Legends
• Fantasy Paint Jobs Pack
• Swedish Paint Jobs Pack
• Danish Paint Jobs Pack
• Norwegian Paint Jobs Pack
• French Paint Jobs Pack
• Scania Truck Driving Simulator.
The second game in Euro Truck Simulator series, Euro Truck Simulator 2 Steam key lets you to really feel what's it like being a long-distance truck driver. This simulator allows you to choose your truck, pick up your cargo and deliver it to the required destiny point somewhere in Europe or the USA.
A Community-based Experience
It's not just that, buy Euro Truck Simulator 2 Steam key, and get the base game, along with an additional privilege to join the World of Trucks online community, where the most dedicated drivers share their experiences worldwide! Strolling along the lonely road is relaxing and awesome, but having someone to share your experiences with, makes the whole journey that much better!
A Personal Business Model
Want more vehicles, depots, or drivers to make the delivery easier? Once you get some experience with Euro Truck Simulator 2 Steam key, your business might begin growing exponentially, so stay focused and keep aiming for more! Make your efforts consistent throughout the game and you will be able to create your own firm, hire other drivers, buy garages, buy new trucks and much more!
A Digital Road-trip
At the end of the day, Euro Truck Simulator 2 Steam key offers everything you love about road travelling and more. The scenery you traverse is recreated to the most scrupulous detail. The cities, towns, and villages are worth your every minute, and the vast environments that will lead you through hours upon hours of gameplay are simply breathtaking.
Cerințe de sistem
Cerințe Minime de Sistem
Cerințe de sistem

Windows 7

Procesor

Dual core CPU 2.4 GHz

Memorie

4 GB RAM

Grafica

GeForce GTS 450-class (Intel HD 4000)

Depozitare

3 GB
Cerințe de sistem recomandate
Cerințe de sistem

Windows 7/8.1/10 64-bit

Procesor

Quad core CPU 3.0 GHz

Memorie

6 GB RAM

Grafica

GeForce GTX 760-class (2 GB)

Depozitare

3 GB
Alte detalii
Limbi

Bulgară

Cehă

Coreeană

Daneză

Engleză

Finlandeză

Franceză

Germană

Greacă

Italiană

Japoneză

Limba română

Maghiară

Norvegiană

Olandeză

Poloneză

Portugheză

Portuguese-Brazil

Rusă

Simplified Chinese

Spaniolă, Castiliană

Suedeză

Turcă

ucraineană

Data lansării

16 ianuarie 2013

Editor

SCS Software

Dezvoltatori

SCS Software

Funcționează pe