Devil May Cry HD Collection Steam Key GLOBAL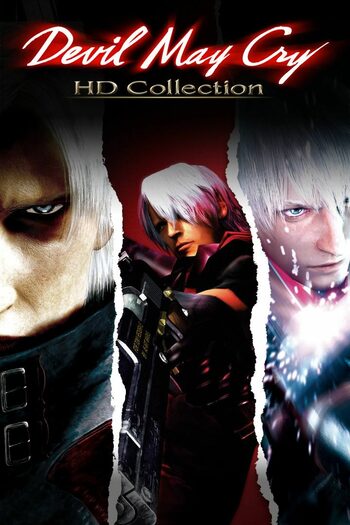 Devil May Cry HD Collection Steam Key GLOBAL
Împărtășiți cu cineva căruia i-ar plăcea acest lucru!
GlobalPoate fi activat în

Statele Unite Ale Americii

Cheie digitală

Aceasta este o ediție digitală a produsului (CD-KEY)

Livrare instantanee
Gamerii au văzut de asemenea,
Recenzii: 16
Jeffteki

03.05.2022

Traducere automată

Este un joc dificil de comparat cu alții, dar aș spune că îmi amintește foarte mult de Ninja Gaiden, ideea de a lovi tot ce îți intersectează calea,

Rootless86

06.09.2022

Traducere automată

Joc excelent de care sa bucurat pe ps2 acum pentru a-l juca pe PC, cu grafică îmbunătățită și hack & slash bun, de asemenea,

DxK

05.01.2023

Traducere automată

În general, am jucat prin DMC 1 și aproximativ jumătate din 2 și, în general, îmi place 2 cu mult mai mult decât 1 datorită upgrade-urilor uimitoare în ceea ce privește mișcarea în special.

SaulSilver

17.11.2022

Traducere automată

Experiență grozavă pentru a retrăi acest joc clasic. Grafica este grozavă, având în vedere vârsta jocului și are toată nostalgia epică.

ankkerey

22.09.2022

Traducere automată

gameplay-ul este exact ca cel al jocului ps2 in sine (pentru a-l juca ai nevoie de un controler pentru orice consola, il poti conecta prin Steam folosind un cablu sau prin Bluetooth)
S-ar putea sa-ți placa, de asemenea
Devil May Cry HD Collection
Devil May Cry HD Collection includes the following games in high-definition:
• Devil May Cry game;
• Devil May Cry 2 game;
• Devil May Cry 3 (Special Edition) game.
Devil May Cry HD collection features the first three games of the stylish hack-n-slash adventure game developed by CAPCOM. Join iconic demon hunter Dante on his adventures of epic proportions in the now remastered trilogy of the DMC series! The series revolutionized the hack-n-slash gameplay and it returns in higher resolution and smoother execution of game controls. Buy Devil May Cry HD Collection Steam key to embark on fierce demon hunting and face the unexpected plot twists! After all, who can tell what happens next in this hunting business?
Three stories in one package
In Devil May Cry you get to meet Dante, the flagrant demon hunter, the son of a legendary demon warrior and an angelic entity. Confident in his skill and power, he demonstrates unmatched prowess in one of the most deadly professions - demon hunting. The sequel, Devil May Cry 2, is set decades after the events of the first DMC game. Dante develops new move sets and now the stakes are higher than ever! Devil May Cry 3 — a prequel to the first Devil May Cry game introduces us to Vergil, Dante's twin brother who seems to be shrouded in a veil of mystery, and possibly, pose a threat to the heroes. If you want to dive into the action of the famous DMC series, Devil May Cry HD Collection key is a great way to do just that and for a cheaper price, mind you!
Major gameplay features:
• Become Dante. Assume the role of Dante - half-human, half-demon who hunts other hellish creatures. You explore and fight your way through missions while looking as stylish as possible;
• Flexible combat style. Ebony and Ivory pistols (and other guns), as well as Dante's sword (and all the other melee weapons), creates room for many amazing combos to finish your opponents off;
• Rich narrative. Dive into the rich narrative and become part of the story where demons are causing devastating threat to the world as you know;
• Complex characters. Main characters of all three games maintain depth and complexity, adding uniqueness to DMC storylines;
• Cheaper Devil May Cry HD Collection price.
Cerințe de sistem
Cerințe Minime de Sistem
Cerințe de sistem

WINDOWS® 7 64bit

Procesor

Intel® Core™ i3 (dual-core)

Memorie

4 GB RAM

Grafica

NVIDIA® GeForce® GTX 760

Depozitare

12 GB
Cerințe de sistem recomandate
Cerințe de sistem

WINDOWS ® 10 64bit

Procesor

Intel® Core™ i7 3770 3.4GHz

Memorie

8 GB RAM

Grafica

NVIDIA® GeForce® GTX 960

Depozitare

12 GB
Alte detalii
Limbi

Engleză

Franceză

Germană

Italiană

Japoneză

SimplifiedChinese

Spaniolă, Castiliană

TraditionalChinese

Data lansării

14 martie 2018

Editor

CAPCOM Co., Ltd.

Dezvoltatori

Capcom

Funcționează pe