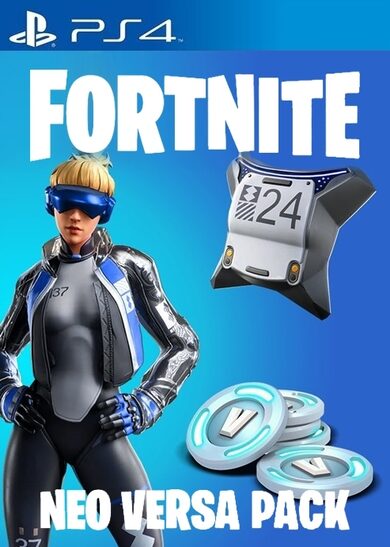 Fortnite: Neo Versa Bundle + 500 V-Bucks (PS4) PSN Key EUROPE
3 persoane urmăresc acest produs
Nu poate fi activat în Statele Unite ale Americii
Funcționează pe
Notă importantă:
For PS4. Works only for EUROPE PSN accounts.
Recenzii: 1
STELIOSM66

4/23/2020

Best for budget vbucks purchase
Fortnite: Neo Versa Bundle + 500 V-Bucks PS4
This Bundle includes:
• Fortnite Neo Versa Outfit;
• Epic Neo Phrenzy Back Bling;
• 500 V-Bucks.
Usually, you would need to buy PS4 controller or a headset to own the Fortnite Neo Versa skin but through purchasing Fortnite Neo Versa Bundle (DLC) at the Eneba game store you can own this content significantly cheaper! You are especially lucky if you're a Fortnite fan who prefers the PlayStation 4 platform as the Neo Versa skin is exclusive to the PS4 console. Best of all – this is not the only thing the bundle includes as you'll also receive the Epic Neo Phrenzy Back Bling along with 500 V-Bucks to spend on the Fortnite Item Shop!
Join Fortnite – the over the top battle royale from Epic Games!
One of the best ways to get into this free to play battle royale is through purchasing a thematic DLC Bundle, and the Fortnite Neo Versa skin is most likely the best option if you're a PS4 player! The idea is simple: 100 players land on the island, gather gear, weapons and fight each other until only one remains! You can't hide from the battle, as the safe zone is constantly getting smaller, therefore making enemy encounters unavoidable and only a matter of time. Fortnite gained massive popularity over the years as it mixed gameplay elements of Minecraft and PUBG as well as cartoon-style graphics similar to games like Team Fortress 2, Overwatch and Borderlands. The stylish aesthetic makes outfits like the Fortnite Neo Versa skin truly stand out. Get it and see for yourself!
500 V-Bucks for you to spend
If the content in Fortnite Neo Versa Bundle will leave you wanting for more, this DLC pack also includes 500 V-Bucks. You can either choose to spend them on outfits, skins, and items currently featured on the Fortnite Item Shop or you keep them and save for a Fortnite Battle Pass. It's not hard to earn the additional 450 V-Bucks through in-game progression. Maybe you have some already? In that case, this purchase will help you obtain not only the Neo Versa skin but also the content of the current or upcoming Fortnite season!
If you like this offer, be sure to visit our Fortnite Skins collection to discover more great deals!
---
Detaliile jocului
Evaluat 12+

Mai multi jucători

A treia persoană
---
Gen:
Limbi:
---
Data de lansare:
July 8, 2019
---