Razer Gold Gift Card 5 USD Key UNITED STATES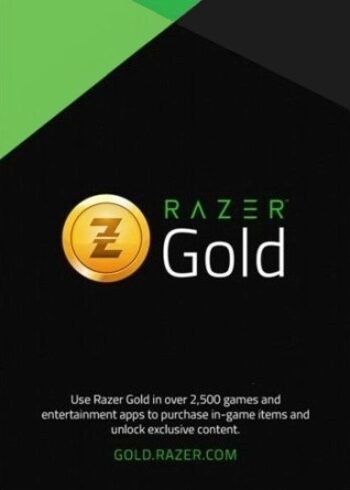 Razer Gold Gift Card 5 USD Key UNITED STATES
Împărtășiți cu cineva căruia i-ar plăcea acest lucru!
Cea mai ieftină ofertă
Disponibil la finalizarea comenzii:
Statele UnitePoate fi activat în

Statele Unite Ale Americii

Cheie digitală

Aceasta este o ediție digitală a produsului (CD-KEY)

Livrare instantanee
Gamerii au văzut de asemenea,
Descrierea produsului
Razer Gold Gift Card 5 USD
It doesn't matter if you are a regular Razer Gold customer or just interested in their offerings, you can always make your shopping experience better with a Razer Gold 5 USD gift card key when buying it at a cheaper price from third-party resellers such as Eneba. Shop anything you like from the Razer Gold shop, including a big variety of new and well-known video games as well as special rewards. Razer Gold is the unified virtual credit for gamers worldwide. Use this currency to buy games and in-game content and get rewards in the form of Razer Silver and exclusive deals. Razer Gold can be used on 42,000 different games, so you will most likely find your favorite ones easily! Now, you can shop at Razer Gold and save your money at the same time! What could be better than that?
What can I use the Razer Gold gift card for?
Take a look at these features of Razer Gold that will make your life better:
• Up to 42,000 different games. Try your skills with a huge variety of video games, that support Razer Gold currency;
• Razer Silver. Get rewarded in the form of Razer Silver. Earn Razer Silver simply by using Razer Gold to make your game purchases. Use your Razer Silver in exclusive events or use them to redeem exciting rewards;
• Exclusive prices & promotions. Find the best deals brought by Razer's partners;
• Cheap Razer Gold gift card price.
It's always better with the Razer Gold gift card!
Keep in mind that with Razer Gold 5 USD gift card key, you will get the best service since they always improve it. Get ready to enjoy your favorite games and rewards instantly together with Razer Gold gift card at a cheaper price today! Thousands of amazing games and rewards are waiting for you. You can be sure to get the best shopping experience possible, which is both simple, and quick. Enjoy cheap Razer Gold card price, and always look at third-party resellers, such as Eneba, since we offer gift cards at the lowest price!
How to activate the Razer Gold gift card?
To redeem a gift card, follow these steps:
• Visit gold.razer.com;
• Create/login to your Razer Gold account;
• Select "Reload now" option and select Razer Gold PIN as your payment method;
• Enter the PIN;
• Confirm.
Alte detalii
Data lansării

18 decembrie 2018

Editor

Razer

Dezvoltatori

Razer