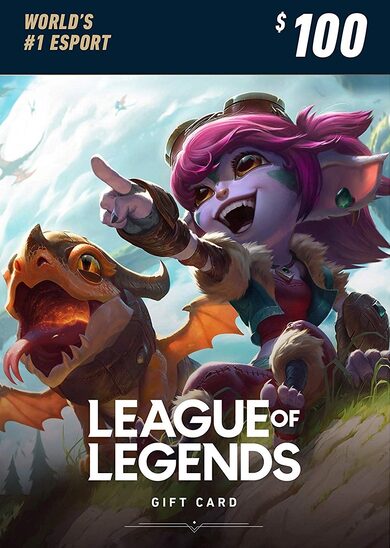 League of Legends €100 Gift Card Key – 15000 Riot Points EUROPE Server Only
Nu poate fi activat în Statele Unite ale Americii
Notă importantă:
For EUROPE WEST and EUROPE NORDIC & EAST servers only! Does not work as a payment method for Valorant.
League of Legends €100 Gift Card Key – 15000 Riot Points
League of Legends is a game that, for years, managed to captivate millions upon millions of players worldwide. It's also one of the biggest MOBA genre games in the entire eSports scene. The free to play title requires no subscription fee to play, however, the game offers optional microtransactions. Buy League of Legends prepaid gift card 100 EU key, receive 2800 RP and check what's in-store!
Amazing Champions – Stunning Skins
League of Legends is a 5v5 team-based tactical game set in a Battle Arena. Players control characters, known as Champions. Each champion in the game has multiple Skins that change its appearance drastically. These skins are amongst the most popular in-game purchases for RP. So, if you want to personalize your favorite character and have an exclusive look that would separate you from the crowd, League of Legends prepaid gift card 100 EU comes of great use.
Riot Points for Commodity
Riot Points is an in-game currency required to acquire items from the in-game store. Aside from the Champion skins, the LoL store holds many other commodity purchases. These span from server and name switch tools to additional rune pages, level boosts, mystery chests & keys, and plenty of other options. While League of Legends does not sell power items, a good cosmetic piece can serve as one of the greatest gameplay enhancements you'd want.
To activate your League of Legends prepaid gift card 100 EU, follow these steps:
Head to your League of Legends account
Go to the in-game Store menu
Click on Purchase RP button
Select the Prepaid RP Card option
Enter and submit your card's key code
Enter the store and see what's on offer!
---
Data de lansare:
January 2, 2016
---