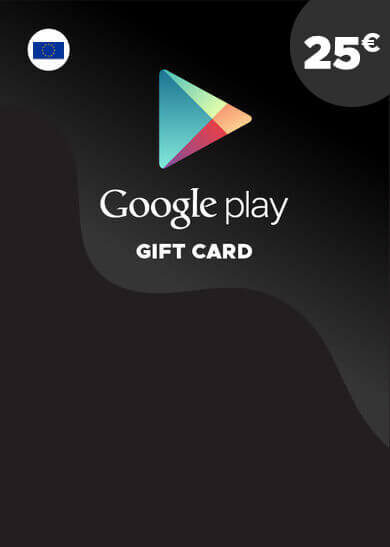 Google Play Gift Card 25 EUR Key EUROPE
99.9%

din 100k + evaluări sunt excelente!
Nu poate fi activat în Statele Unite ale Americii
Notă importantă:
No expiration date. Code is valid only for the EUROPE account.
1

alte oferta
Google Play Gift Card 25 EUR EUROPE
We all use our phone every day for a variety of things, both work, and entertainment. So why not buy Google Play Gift Card 25 EUR and get the most out Google services? Do you need an app to keep up with scheduling? Or perhaps you are leaning towards the brain-teasing game to expand your knowledge? Google Play has it all!
App heaven
It is not an exaggeration to say that Google has one of the greatest selection of apps and programs. There are plenty of applications that can be crucial to your job, lighten certain aspects of everyday life or even give you a laugh or two with silly games. Due to such vastness, there will never be a boring moment. Once you buy Google Play Gift Card 25 EUR, you are free to not only purchase the apps itself, but also pay for any and all additional items or services within those apps. Ultimately, Google Play uses their internal wallet to cover your needs without taking out the credit card.
Literature for all
If you prefer books over mobile apps, you can rejoice! Google Books is a service that allows you to buy and read books right on your device – phone or tablet, wither works! You no longer have to carry the physical copy of your favourite literature or have to buy a separate reader device - buy Google Play Gift Card 25 EUR, pick your preferred stories and enjoy them whenever you want! And it's not just fiction! Much like the apps, there's an incredible selection of the books you can pick ranging from modern psychology to handbooks to cooking tips! Something for everyone for sure!
Cinematic experience
Or maybe you want to share your enjoyment with others? In that case, what could be better than renting out a movie for a get-together? It could be a light comedy to laugh at, maybe a horror story for the extra kick of adrenaline, or even the latest action flick. Buy Google Play Gift Card 25 EUR and start browsing, you will find not only western movies but also films that come from Eastern markets, so you are able to expand your cinematic taste!
---
Data de lansare:
January 1, 2010
---