Fortnite - 5000 V-Bucks Gift Card Key UNITED STATES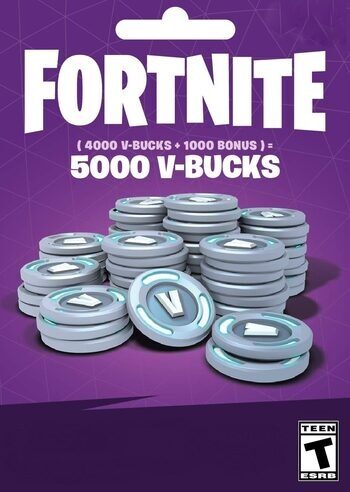 Fortnite - 5000 V-Bucks Gift Card Key UNITED STATES
Împărtășiți cu cineva căruia i-ar plăcea acest lucru!
Statele UnitePoate fi activat în

Statele Unite Ale Americii

Cheie digitală

Aceasta este o ediție digitală a produsului (CD-KEY)

Livrare instantanee
Notă importantă:
No expiration date. Works only with PC version of Fortnite. To redeem code visit: https://www.epicgames.com/fortnite/en-US/vbuckscard
Gamerii au văzut de asemenea,
Fortnite - 5000 V-Bucks Gift Card
In this day and age, Fortnite hardly needs an introduction. Its a widely recognized cultural phenomenon that defines the contemporary gaming industry. Fortnite involves hundreds of millions of players from around the globe, receives massive following on streaming platforms like Twitch, and maintains its status as one of the most popular battle royale games ever. Anyone can download this Epic Games title and enjoy it for free but if you buy Fortnite 5000 V-Bucks gift card Epic Games key, you will surely get the most out of your time with this game!
What can I buy with my V-Bucks?
While the base game is free-to-play, players can use real-world money to purchase the in-game currency called V-Bucks. These funds are used to buy Fortnite skins for characters, weapons, harvesting tools, gliders, and vehicles. The assortment of the in-game Item Shop also includes such items like emotes, dances, sprays, musical soundtracks of the game's menu, or loading screens. Your options will hardly be limited once you'll buy Fortnite 5000 V-Bucks gift card Epic Games key as even the most expensive of items in the Fortnite Item Shop will become available!
Pick a Battle Pass or a Battle Bundle!
Alternatively, Fortnite V-Bucks currency can be used to buy a Fortnite Battle Pass or a Fortnite Battle Bundle. The former unlocks all of the season-exclusive items based on your tier while the latter purchase not only includes the Battle Pass but also raises your account's progress by 25 tiers and in-turn allows you to claim all of the rewards they bring along. Buy Fortnite 5000 V-Bucks gift card Epic Games key and you will not only gain Fortnite items exclusive to this season but you will also have enough V-Bucks remaining to purchase multiple Battle Passes in the future!
How do I redeem a Fortnite V-Bucks gift card?
• Click Sign In on the top right corner of the Fortnite home page;
• Log in with your Epic Games account;
• Hover your mouse cursor over your account name on the top right corner;
• Select the V-Bucks Card option;
• Press the Get Started button;
• Enter the key code and click Confirm to redeem your Fortnite 5000 V-Bucks gift card!
Visit the Fortnite skins collection to discover more Fortnite cosmetic item offers! Check out our Fortnite V-Bucks collection for great V-Bucks offers!
Alte detalii
Data lansării

10 decembrie 2019

Editor

Epic Games

Dezvoltatori

Epic Games