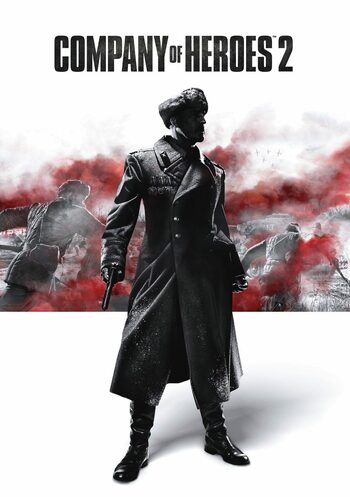 Company of Heroes 2 Steam Key GLOBAL
Udostępnij komuś, komu to się spodoba!
Cały światMoże być aktywowany w

Stany Zjednoczone Ameryki

Sprawdź

Klucz cyfrowy

To jest cyfrowa wersja produktu (CD-KEY)

Natychmiastowa dostawa
Opinie: 4
Vego

16.03.2021

+6

Kozacka gra mam w niej już około 10 godzin i się nie nudzi oczywiście nie oczekujcie po tej grze że zachwyci was grafika bo tak nie jest ale co się

JJ

20.04.2020

Przetłumaczone automatycznie

Niezła strzelanka

Kaiser

5.09.2022

Przetłumaczone automatycznie

Podoba mi się fabuła, a także możliwość stworzenia bazy, do której możesz zaprojektować swoją drogę. Lubię też grafikę, która jest dość szczegółowa.

LeifGW

3.01.2023

Przetłumaczone automatycznie

Całkiem dobra gra. Podobało mi się i nie jest trudno nauczyć się mechaniki. Ścieżka dźwiękowa jest świetna, a rozgrywka jest w porządku. Jedynym minusem jest to,
Może ci się również spodobać
Opis produktu
Company of Heroes 2 Steam Key
Company of Heroes is an RTS game set in World War II. It's graphically beautiful, tactically splendid and deep, with units from many of the armies that participated in the biggest armed conflict in the history of the world. If you find some of the factions you'd like to play missing, chances are that they are available in DLCs.
If you're seeking a real-time strategy game that offers a different perspective and is entertaining to play, halt your search! Company of Heroes 2 key, available on Steam, is an instantly atmospheric game that pulls you into the virtual world right away. Developed by Relic Entertainment with a generous hand and published by SEGA, the game boasts high-quality and smooth gameplay with features that challenge you and reward you with an unforgettable gaming experience. Buy Company of Heroes 2 Steam key at a lucrative price and dive into another video game inspired by wild imagination and innovation that enriches the real-time strategy genre and your personal experience!
Real-Time Strategy genre
Real-Time Strategy games are for those who strive to learn. Engage in strategic, tactical, and logistical challenges while playing this real-time game. Company of Heroes 2 Steam key will assess how inventive you are in creating well-planned strategies, and how practical you are in using them at the right time. Test a multitude of skills and get to learn something completely new about yourself! Don't forget – the complexity of the tasks rises as you achieve more and more goals, so try to keep it up with this enthralling game.
Features
With Company of Heroes 2 key, you'll indulge in gameplay features that will keep you entertained for a long while and make your experience unforgettable! Here are some of them listed below:
• 3D graphics – The world is three-dimensional and can be viewed and rotated at every angle;
• Action – This title emphasizes overcoming physical challenges and tests your hand-eye coordination and reaction time;
• Isometric view – The game utilizes a slanted camera angle to reveal various facets of the map;
• Tactical – The title focuses on manoeuvring large sets of units in various battles without the need to manage resources;
• Cheap Company of Heroes 2 price.
Wymagania systemowe
Minimalne wymagania systemowe
Wymagania systemowe

Windows Vista / Windows 7

Procesor

2 GHz - Intel Core2 Duo

Pamięć

2 GB RAM

Grafika

GeForce 8800 / RadeonHD 2900

Miejsce na dysku

20 GB

Dodatkowe informacje

Internet connection
Zalecane wymagania systemowe
Wymagania systemowe

Windows Vista / Windows 7

Procesor

3Ghz Intel i5 quad core

Pamięć

4GB RAM

Grafika

GeForce GTX 470

Miejsce na dysku

30GB

Dodatkowe informacje

Broadband Internet connection
Pozostałe szczegóły