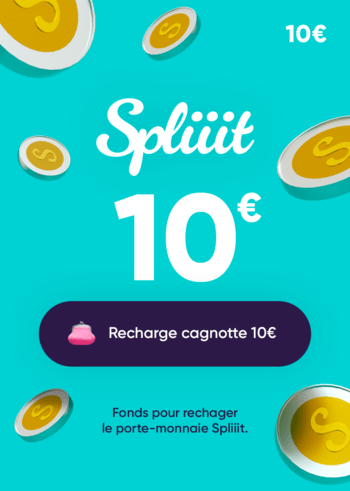 Spliiit 10 EUR Gift Card Key FRANCE
99.96%

of 200k+ ratings are excellent!
Lowest price
Important Notice:
To activate your gift card visit: https://www.spliiit.com/sponsorship
Spliiit 10 EUR Gift Card
Carte Spliiit 10 EUR (FR)
Dépensez moins, profitez plus !
SVOD, Musique, Sécurité, jeux vidéo, Lecture, Presse…
Avez-vous déjà essayé de souscrire à tous les abonnements du marché ? Si vous répondez oui, c'est que nous ne sommes pas dans la même catégorie.
Avec la multiplication des offres d'abonnements, il est de plus en plus difficile de pouvoir accéder un catalogue complet sans se ruiner.
Avec la carte cadeau Spliiit (10€), souscrivez à une multitude d'offres réelles proposées par des propriétaires d'abonnements cherchant à diminuer leurs factures.
En manque d'inspiration pour vos cadeaux ?
Vous ne savez plus quoi offrir à vos proches ou à vos amis ? Et si vous leur offriez des abonnements… Drôle d'idée n'est-ce pas ?
En offrant une carte cadeau Spliiit, vous leur permettez de souscrire à des centaines d'offres disponibles sur la plateforme à moindre coût.
Tout le monde aime regarder des séries ou des films ou encore écouter de la musique pendant des heures !
Aucune limite de temps !
Parce qu'on le sait bien, il y a tellement d'abonnements que le choix en devient cornélien. Pour vous laisser le temps de réfléchir, une carte cadeau n'arrive jamais à expiration ! Ne perdez pas trop de temps tout de même car les offres partent vite sur Spliiit.
Comment activer votre carte :
Inscrivez vous sur

www.spliiit.com

Une fois sur le tableau de bord, cliquez sur le menu "Parrainage & cartes cadeaux" (icône en forme de cadeau)

Renseignez le code de votre carte dans le champ désigné afin de créditer immédiatement votre compte et commencer à profiter des offres disponibles sur notre Marketplace !
Release date:
December 1, 2019
Developers
---