Apex Legends Mobile 90 Syndicate Gold Key UNITED STATES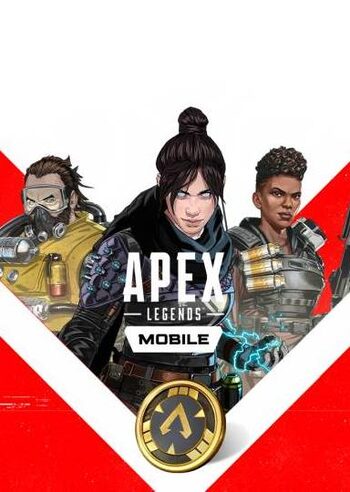 Apex Legends Mobile 90 Syndicate Gold Key UNITED STATES
Deel met iemand die dit leuk zou vinden!
Gekopieerd naar klembord!
Wellicht vind u dit ook leuk
Productomschrijving
Apex Legends Mobile 90 Syndicate Gold
Do you want to know what it's like to have a multiplayer shooter on your phone and enjoy unlimited benefits of it? If yes, then it's time to do so! One of the top-notch legendary PC titles Apex Legends is now available on Android and Apple devices. In mobile gaming mode, Apex Legends is more accessible than ever, and for it, solid monetary preparation is needed! Want to enjoy the most privileged gaming experience? Opt for Apex Legends Mobile Syndicate Gold!
What is Apex Legends Mobile?
Apex Legends Mobile is an online Battle Royale shooter, available on Google Play and App Store. As you may have guessed, "Legends" in the game stands for the different characters, which you can select when forming a squad, whereas, the "Squad" is what makes up the battle in total counting up to 60 players.
The game is perfect for those who can't stand playing with bots or elaborately solving slow-paced tasks. It's fast and intense, yet simultaneously engaging and strategic!
What is Syndicate Gold in Apex Mobile?
Apex Legends Mobile Gold is the highest-ranked, and the most valuable in-game currency used to buy premium goods. Amongst them, you can find everything the best of the best the title has to offer - from skins to battle passes. Striving for improvement and upgrades? Then Apex Legends Mobile 90 Syndicate Gold key is the solution you're looking for.
What is Syndicate Gold used for?
• Skins. Use your Apex Legends Mobile 90 Syndicate Gold key to discover new legends. For example, the Night Terror Wraith - the most relentless character out there;
• Gun skins. How can legends go without their legendary weapon skins? Bone SAW, the SOS, or Honored Prey - no matter which one you choose - the victory's getting closer;
• Premium passes. Unlock the most privileged premium and premium plus game passes, comprising extra rewards, and smaller in-game items;
• Battle passes. It's always handy to save some virtual money for new adventures, a.k.a. new battles;
How do I redeem Apex Legends Syndicate Gold?
• Log into your Apex Legends app;
• Copy your Player ID (from your profile section);
• Sign up or log into your account on https://redeem.meplay.com;
• Add your Player ID;
• Look for Redeem Codes section and write in your voucher code;
• Wait for verification, when it's done - Syndicate Gold should be added.
Andere details
Talen

Releasedatum:

5 februari 2019

Uitgever

Electronic Arts Inc.

Ontwikkelaars

Respawn Entertainment