Physical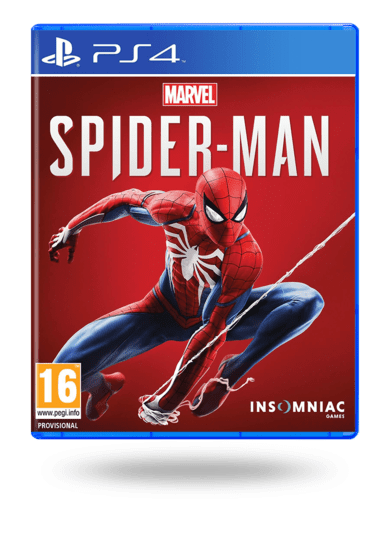 Marvel's Spider-Man PS4 CD
Fast delivery1-2 working days
Marvel's Spider-Man PS4
Įsigykite Spider-Man PS4 CD! Kaina mokama už šį žaidimą yra nepalyginamai mažesnė perkant naudotą, fizinę kopiją, o kokybė daugiau nei užtikrinta! Sukurtas studijos Insomniac Games ir kompanijos Sony Interactive Entertainment išskirtinai PlayStation 4 konsolei 2018 – siais išleistas žaidimas meistriškai realizuoja galimybę pasijausti visame pasaulyje žinomu ir atpažįstamu Marvel superdidvyriu – Žmogumi Voru. Tai puikiai sukurtas žaidimas apie komiksų personažą, analogiškas Batman: Arkham Asylum serijos žaidimams atstovaujantiems DC Universe.
Įspūdingas atviro pasaulio Manhatanas
Net jeigu niekada nebuvote Marvel ar Žmogaus Voro gerbėju vis tiek egzistuoja didelė tikimybė, kad juo tapsite išbandę šį žaidimą! Pigesnė Spider-Man PS4 CD kaina be abejonės turėtų būti tik dar vienas akstinas asmeniškai ir su ypač įtaigiu realizmu bei adrenalinu patirti ką reiškia siūbuoti tarp dangoriežių Žmogaus Voro vorantinkliais! Žaidimas pristato smulkmeniškai sukurtą atviro pasaulio Niujorko reprezentaciją. Šalutinės misjos, priešų postai, kolekciniai radiniai – visa tai sudaro tik dalį viso to kas šiam miestui suteikia gyvybę, o žaidimui – priežąstį daugiau nei vieną kartą įveikti vieno žaidėjo kampaniją.
Skirtingi Žmogaus Voro kostiumai
Tyrinėjant Niujorką, vykdant misijas ir užsiimant bet kokia kita veikla (jos gausa žaidimas anaiptol nesiskundžia) pelnomi patirties taškai, panašiai kaip RPG žaidimuose. Šie taškai taip pat turi ir tai ką būtų galima pavadinti valiutos funkcija, nes juos galėsite išleisti atrakindami įvairią Žmogaus Voro įrangą. Spider-Man PS4 CD kaina įtraukia plačią skirtingų kostiumų kolekciją. Kiekvienas kostiumas atstovauja skirtingas Žmogaus Voro versijas iš įvairiausių filmų, žaidimų ir komiksų apie šį herojų. Kiekvienas atrakintas kostiumas taip pat suteiks pagrindiniam veikėjui naują galią, tačiau jo dėvėjimas neprivalomas tam, kad galia būtų naudojama, todėl galėsite lasivai mėgautis jums asmeniškai maloniausia galių ir kostiumo kombinacija!
Kovos su priešais
Visiems yra gerai žinomas faktas, kad Žmogus Voras savo priešų nežudo. Šis didvyris atsisako tradicinių šaunamųjų ginklų ir vietoje jų naudojasi radiokatyvaus voro įkandimo padovanota antžmogiška stiprybe, kovų menais, bei įvairiausia, vorantiklių panaudojimu grįsta įranga. Pasinaudokite pigesne Spider-Man PS4 CD kaina kaip galimybe pigiau mėgautis įvairiomis šio žaidimo kovos sistemos galimybėmis ir deriniais: atlikte įspūdingas smūgių kombinacijas išnaudojant Žmogaus Voro akrobatiką, vorantiklių minas, voratinklių šūvius, bei modernią įrangą sukonstruotą Peterio Parkerio. Galų gale, visa tai sudaro tik dalį elementų paverčiančių šį žaidimą autentiškiausia Žmogaus Voro realizicija!
---
Game details
Rates 16+

Single-player

Third-person
---
Genre:
Languages:
AUDIO:ENG/RUS/POL/ARA SUB:ENG/RUS/POL/DUT/HUN/CZE/DAN/GRE/NOR/FIN/SWE
---
Release date:
September 7, 2018
Developers
Insomniac Games, Inc.
Publisher
Sony Interactive Entertainment LLC
---