Guild Wars 2 800 Gems Card Official website Key GLOBAL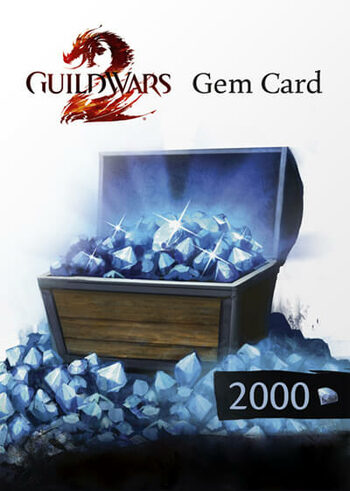 Guild Wars 2 800 Gems Card Official website Key GLOBAL
Atsiprašome, išparduota :(
Nori šio žaidimo? Kai šis produktas vėl bus prekyboje, mes apie tai pranešime el. paštu.
Pranešimas
Visas pasaulis

Jungtinės Amerikos Valstijos

yra tinkamas regionas aktyvacijai

Aktyvavimo raktas

Tai skaitmeninė produkto versija (CD-KEY)

Momentinis pristatymas
Svarbus pastebėjimas:
No expiration date. Requires an active Guild Wars 2 account in order to use.
Žaidėjai taip pat peržiūrėjo
Prekės aprašymas
Guild Wars 2 800 Gems Card Official website Key
Guild Wars 2 is a greatly successful MMO (and the sequel to the previous holder of the title) with a vibrant world and exciting story. Buy Guild Wars 2 800 Gems and increase your enjoyment. Take a look at the vast selection of items in the ever-changing market, make use of the sales and recreate your character to your exact specifications.
The fashion show is here
As you may have already witnessed, Guild Wars 2 is full of characters who look like they stepped out of the commercial; some with fantastic weapons, others with marvellous attire, some have pets and others have intricate haircuts. All of that might be within your reach as well, if you so choose, all you have to do is buy Guild Wars 2 800 Gems.
The in-game store has a fine display of outfit sets, or even some random one-off hats and attire. But be sure to snag the thing you want as soon as you can since the outfits are in rotation and will soon be replaced by other ones (they will come back, but no one knows when!).
Your Gems can get you a whole plethora of character customization options. You may change your hair, face, hair, and eye color – basically, redesign your whole look. Or, if you love your mounts, get them a new shining fur (or scales!), make them stand out.
Boost in utilities
Buy Guild Wars 2 800 Gems and you don't have to focus on the looks only. You may choose to spend your funds on more practical things. For example, a good decision would be to buy one of the unbreakable gathering tools, so you will never have to worry about the level of your ordinary tool and whether or not it will break when facing the local materials.
Additionally, there are also various boosts to your progression. You can run faster, hit harder, become sturdier and all manner of indestructible (you may even get items to revive instantly at the same spot). Buy Guild Wars 2 800 Gems and enjoy all those buffs; especially when facing the world boss, as you want to be prepared.
Get some gold
Finally, the Gems can also increase the weight of your wallet (the in-game one, that is). Gems can be traded for gold via the store's service, so if there's something you want to get from the market, now is your chance. Or you can increase your inventory space, expand your storage or buy all manner of tiny additions that will make your gameplay easier.
How to redeem a Guild Wars 2 code?
• Access the Account Management page through your ArenaNet account;
• In the Overview page select the Redeem a Code option;
• Type in or copy the purchased key into the given field;
• Press Submit to finish the code redemption process.
Kita informacija
Išleidimo data

2012 m. rugpjūčio 27 d.

Leidėjas

NCsoft

Kūrėjai

ArenaNet Inc.