Guild Wars 2 1200 Gems Card Official website Key EUROPE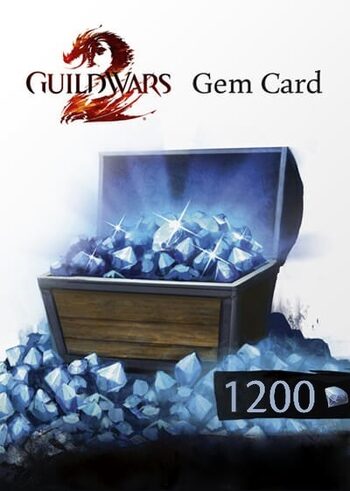 Guild Wars 2 1200 Gems Card Official website Key EUROPE
Atsiprašome, išparduota :(
Nori šio žaidimo? Kai šis produktas vėl bus prekyboje, mes apie tai pranešime el. paštu.
Pranešimas
Europa

Jungtinės Amerikos Valstijos

yra netinkamas regionas aktyvacijai

Aktyvavimo raktas

Tai skaitmeninė produkto versija (CD-KEY)

Momentinis pristatymas
Svarbus pastebėjimas:
No expiration date. Requires an active Guild Wars 2 account in order to use.
Žaidėjai taip pat peržiūrėjo
Prekės aprašymas
Guild Wars 2 1200 Gems Card Official website Key
Guild Wars 2 is an acclaimed and beloved MMO, with much to offer. Buy Guild Wars 2 1200 Gems and get ahead of others; invest in the new look for yourself or your trusty mount, get a helping hand in the form of various boosts and enjoy the luxury the sore can provide.
Something for everyone
The premium store contains all sorts of marvellous additions that will improve or spice up your gameplay. If you want to change your look, pick an outfit from a great available selection, or perhaps you got tired of your hair colour – the game can help with that too! Weapon skins with great visuals and attire that perfectly covers your bulky armour is there as well. Buy Guild Wars 2 1200 Gems and solving aesthetics-related issues will be a thing of the past.
And if you are completely satisfied with your look, the store can offer you certain items that will improve your journey across the continents and beyond. You can get a buff to increase your running speed and make the dreadful running more bearable. Or perhaps you want to whack the enemy with additional strength? Anything you need can be found in the store.
Living Story
Another great way to spend your Gems is to catch up on the Living Story within the game. Buy Guild Wars 2 1200 Gems and you won't have to miss even a moment of the plot. If you have missed out on gaining these episodic missions when they came out, you can always unlock them with Gems. And yes, they come with the rewards, so you truly do not lose out on anything.
Additionally, you may also use this currency to enhance your account with new character slots, perhaps get the upgrade to your expansion, or maybe you just want the convenience of faster travel, gear maintenance kits and – a treasure above them all – the coveted Black Lion Keys. Buy Guild Wars 2 1200 Gems and grab the thing that unlocks chests containing all sorts of magical items, from cosmetics to utility!
All in all, there's a great variety of treasures the Gems can grant you. It can elevate your gameplay, update your closet or even unlock the missing pieces on your game. Possibilities are endless and all depends on your preference!
How to redeem a Guild Wars 2 code?
• Access the Account Management page through your ArenaNet account;
• In the Overview page select the Redeem a Code option;
• Type in or copy the purchased key into the given field;
• Press Submit to finish the code redemption process.
Kita informacija
Išleidimo data

2012 m. rugpjūčio 27 d.

Leidėjas

NCsoft

Kūrėjai

ArenaNet Inc.