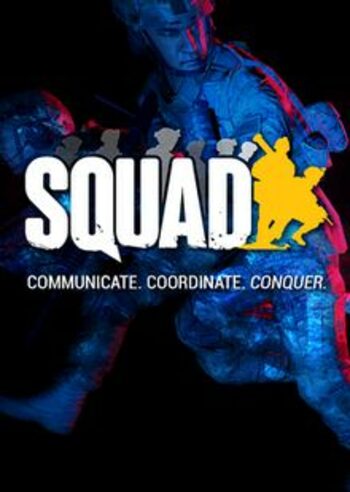 2 persona(s) viendo este producto
¡Compártelo con alguien a quien podría gustarle esto!
¡Copiado al portapapeles!
GlobalSe puede activar en

Estados Unidos

Consulte las

Código Digital

Esta es una edición digital del producto (CD-KEY)

Entrega inmediata
Los jugadores también han visto
Reseñas: 9
N0RM4L

24/5/2020

Traducción automática

Muy buen juego competitivo. Recomiendo comprarlo para cualquiera que le guste jugar juegos de tipo militar.

Archi

18/4/2021

Traducción automática

Squad es un simulador militar de núcleo duro. Es solo multijugador, por lo que dependiendo del servidor que elija entre los cientos disponibles,

SIBERNOT

15/4/2021

Traducción automática

Un muy buen juego, multijugador con diferente servidor en función de las expectativas de cada uno. Realmente lo recomiendo si estás buscando un juego

Kxtxlinn

10/2/2022

Traducción automática

Desde el primer momento en que abrí el juego, me di cuenta de que era un juego muy bien hecho con muchos detalles.

Kami

25/5/2022

Traducción automática

En realidad bastante genial, solo un poco demasiado realista y agotador para mí. Sin embargo, se lo recomendaría a cualquiera que busque un juego de
También te puede interesar
Descripción del producto
What is Squad?
Ever had the chance to enjoy the atmospheric World War 2 first-person shooter Hell Let Loose from Team17? Buy Squad Steam key and have an equivalent, multiplayer FPS experience set in modern times. Developed and published by Offworld Industries, Squad is an achievement of a balance between the engaging pace of popular arcade shooters such as Battlefield together with the serious tone of military combat simulators like Arma. After all, the game itself is based on the Project Reality modification which was realized based on game engines from both of the mentioned series.
What engine does Squad use?
As for the fully-fledged experience, those who'll buy Squad Steam key will enjoy the latest iteration of Project Reality based on the Unity Engine 4. The game looks amazing and gives the immersive impression of realism, however it's the sound design that steals the show. The aggressive, noise of bullets zipping past your head, rapid-fire ripping out holes on concrete walls and cover, the distant humming of land and air vehicles, deep sounds of explosions accompanied by clouds of debris is what creates an exceptional feel about Squad and helps recreate tension and unpredictability of modern battlefield.
Emphasis on realism
While the baseline arsenal of traditional FPS games is featured in Squad, once you'll buy Squad Steam key the game's emphasis on realism will become apparent. "Spraying and praying" is not a good long-term survival strategy in this game. Weapons are tools of war and for them to be effective you'll need to learn to manage recoil, control your aim and evaluate the distance between yourself and the target. The way you move, the way you establish yourself on the field of battle or advance the enemy is accompanied by constant consideration of how easy it is to lose your life. This is not a game that encourages the "run n' gun" style of gameplay but this is exactly what makes Squad fun an engaging in its own, unique way.
How many players can play Squad at once?
Buy Squad Steam key to join an active community of players and developers! As the title of the game already implies, teamwork is vital is Squad. This is not a lone wolf's journey. During a single gaming session up to 100 players can participate in combat! Every squad has an appointed leader and there is no greater weapon in this game than communication. Worry not, as the community of Squad values and encourages the biggest virtue of combat – comradery. This is a multiplayer medium where a sense of genuine brotherhood and new friendships are constantly forged in the midst of fighting side by side. Buy Squad Steam key and fill the vital role in your side's victory!
Requisitos del sistema
Requisitos mínimos del sistema
Requisitos del sistema

Windows 7 SP1 (x64)

Procesador

2.4 GHz Dual-Core 64-bit CPU

Memoria

4 GB RAM

Gráfico

DX10 1 GB VRAM

Almacenamiento

10 GB
Requisitos del sistema recomendados
Requisitos del sistema

Windows 7 SP1 (x64), Windows 8 (x64), Windows 10 (x64)

Procesador

Intel Core i7 4790k CPU

Memoria

16 GB RAM

Gráfico

Gece GTX 970 or AMD Radeon R9 290

Almacenamiento

35 GB
Detalles del pedido
Idiomas

Alemán

Búlgaro

Checo

Coreano

Danés

Español

Finés

Francés

Griego

Holandés

Húngaro

Inglés

Italiano

Japonés

Noruego

Polaco

Portuguese-Brazil

Portugués

Rumano

Ruso

Simplified Chinese

Sueco

Tailandés

Traditional Chinese

Turco

Ucraniano

Árabe

Fecha de lanzamiento

23 de septiembre de 2020

Editor

Offworld Industries

Desarrolladores

Offworld Industries

Funciona en