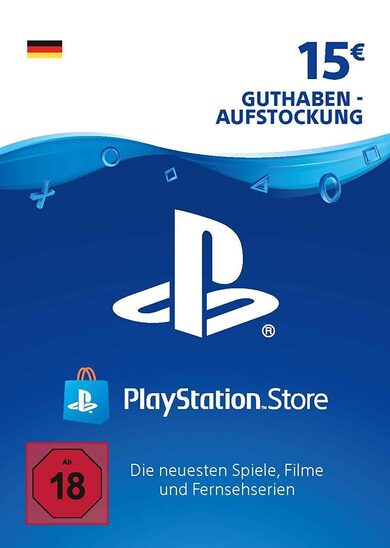 Playstation Network Card 15 EUR (DE) PSN Key GERMANY
Eneba es una plataforma que aloja a vendedores contrastados y verificados de juegos digitales. Las ofertas marcadas como "Eneba Official" significan que se está comprando ese juego directamente a Eneba, no a un tercero en la plataforma.
Nuestra plataforma te da la libertad de elegir a quién quieres comprar los juegos. El nivel de servicio y soporte es exactamente el mismo para Eneba Official y otros vendedores.
Publisher Oficial
Eneba
|
Publisher
Sony Computer Entertainment
Noticia importante:
No expiration date. Code is valid only for the GERMANY PSN store. Make sure that your account is registered to GERMANY.
3

ofertas
PlayStation Network Card 15 EUR (DE) key
PlayStation Network Gift Card 15 EUR key unlocks numerous possibilities for you. Purchase this key, receive the key code, enter it on your PSN account and increase your funds by 15 EUR in an instant!
Of course, using this Gift Card for your own personal gain is not a requirement, you can always purchase this key for someone that you hold dear, whether it's your gamer friend or family member – they are sure to appreciate your efforts.
Do you know what's there on the PSN store? Because there's actually a whole bunch of stuff to want! Activate the PlayStation Network Gift Card 15 EUR key on your PSN account and start checking through!
The (DE) PSN Cards vary in value from 10 EUR to 75 EUR, depending on your needs, choose the one that fits you the most, and enjoy new possibilities!
Want a good investment? This Gift Card key should definitely be in the consideration list. It comes with no expiry date, and that means your funds stay safe and secure within the key's code for however long you need them there.
Make your purchase today and receive more than you've paid for. Buy PlayStation Network Gift Card 15 EUR key and reap on its benefits!
---
Fecha de lanzamiento:
29 de noviembre de 2013
Desarrolladores
Sony Computer Entertainment
Publisher
Sony Computer Entertainment
---