PlayStation Network Card 100 GBP (UK) PSN Key UNITED KINGDOM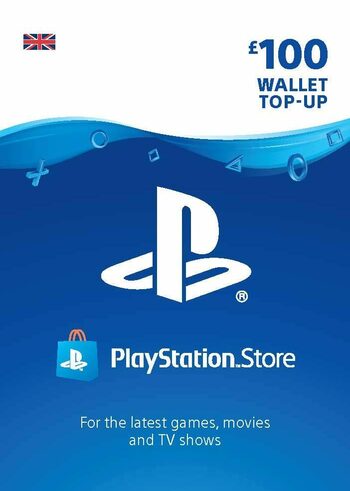 PlayStation Network Card 100 GBP (UK) PSN Key UNITED KINGDOM
¡Compártelo con alguien a quien podría gustarle esto!
¡Copiado al portapapeles!
Reino UnidoNo se puede activar en

Estados Unidos

Consulte las

Código Digital

Esta es una edición digital del producto (CD-KEY)

Entrega inmediata
Funciona en:
PlayStation 3
PlayStation 4
PlayStation 5
Noticia importante:
No expiration date. Code is valid only for the United Kingdom PSN store. Make sure that your account is registered to United Kingdom.
Los jugadores también han visto
También te puede interesar
Descripción del producto
Is 100 PSN card worth it?
Buying a digital PlayStation gift card code is the easiest and safest way to increase the monetary value within a chosen PlayStation Network account. By purchasing this particular 100 PSN card for the United Kingdom region, you'll increase the PSN wallet funds by 100 GBP. Open up a myriad of possibilities on the available on the Sony Entertainment Network Store and extract the full potential out of the PlayStation platform!
Enjoy amazing offers on the PSN
Only through adding funds to your PSN wallet through purchasing the PlayStation gift card can you buy products and services available on the PlayStation Network. This is one of the main reasons to get yourself, or someone you care about, the PSN voucher. The selection of goods is not limited to gaming or video game DLC, as the 100 PSN card will allow you to enjoy a variety of subscription services, PS Plus card or PS Now selections, as well as movies, TV shows, music, and different add-ons.
A cost-efficient way to shop on the PSN
A digital PSN card allows you to save money shopping on the PlayStation Store as the prices of PSN codes are not fixed. This means that very often a PlayStation voucher costs less than the value it offers on the PlayStation Network. On top of that, the PSN gift card has no expiration date. You can post-bone it's use indefinitely. This way, you can purchase the 100 PSN card now and in turn save your money for the future!
Perfect gift for PlayStation gamers
The original function of the PlayStation voucher is for it to be used as a gift. If you're looking for a present to give for a PlayStation console owner – this is it! No need to bother yourself by coming up with additional gift ideas – just get them a PSN gift card and in turn provide them with the freedom to choose whatever they want from the huge selection of products featured on the PlayStation Network. Without a doubt, the value of 100 PSN card will open up staggering possibilities for anyone who receives it!
Explore the wide selection of PlayStation gift cards!
If 100 GBP PSN gift card doesn't suit your current interests but you nevertheless want to make purchases on the PlayStation Store, be sure to keep in mind that here on Eneba you can find a wide variety of different value PSN codes: 5 GBP; 10 GBP; 20 GBP; 25 GBP; 30 GBP; 35 GBP; 40 GBP through 50 GBP to the 100 PSN card. All of them, and more, can be found here on Eneba, purchased, and activated by following the instructions below.
Activation process:
• Open a Sony Network Entertainment account on PSN (or use your existing Sony Entertainment Network account);
• Select the PlayStation®Store icon on the PS4™ system home screen;
• When on the PlayStation Store, select Redeem Codes at the bottom of the menu;
• Enter the key code you've received in your email;
• Select Continue on the dialog box;
• Select Confirm to accept the terms and services pop-up;
• Select Continue to complete the 100 PSN card code activation!
Detalles del pedido
Fecha de lanzamiento

29 de noviembre de 2013

Editor

Sony Online Entertainment

Desarrolladores

Sony Online Entertainment