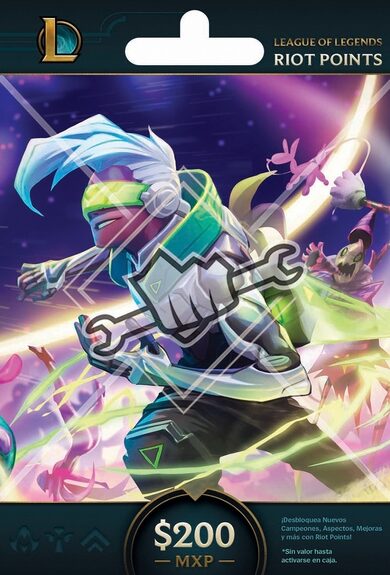 League of Legends 200 MXN Gift Card Key - MX Server Only
No se puede activar en Estados Unidos
Noticia importante:
For MX server only! Does not work as a payment method for Valorant.
League of Legends 200 MXN Gift Card Key - MX Server Only
League of Legends is one of the best and most outstanding MOBA genre games in the world with tens of millions of players worldwide. The title is free to play but includes optional purchases through microtransactions. While you cannot buy any power items in-game, you can buy a whole ton of cosmetic and commodity items to boost your gameplay experience to a whole another level.
Champion Customization
There are two ways to acquire Riot Points – the virtual in-game currency bought for real money. One is to buy them directly from the in-game store, and the other is to buy League of Legends prepaid gift card. While cosmetic options are certainly amongst the most popular in-game purchases, you shouldn't forget about the other items on the list.
Commodity and Convenience
Buy League of Legends 200 prepaid gift card even if you don't need a skin. You might think of switching the server, or even your name – there are items for both occasions, along with many others. Treasury boxes & keys – these might reward you with significantly greater rewards, however, these purchases always come with a risk factor. Weigh in the odds and start your venture, the League of Legends store is a great place once you're packed with RP!
Activate League of Legends prepaid gift card 200 MXN with ease:
• Log in to your League of Legends account
• Click the in-game Store menu
• Click on Purchase RP button
• Pick the Prepaid RP Card option
• Enter and submit your card's key code
• Enhance your experience with new goodies!
---
Fecha de lanzamiento:
September 7, 2015
Desarrolladores
Riot Games
---