Minecraft: Java & Bedrock Edition Official website Key GLOBAL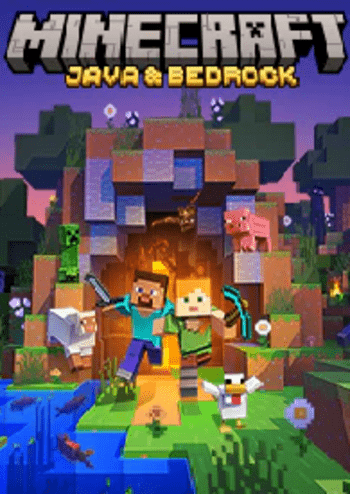 Minecraft: Java & Bedrock Edition Official website Key GLOBAL
4 persone stanno guardano questo prodotto
Condividi con qualcuno a cui piacerebbe!
Avviso importante:
Code can be redeemed at : https://www.minecraft.net/en-us/redeem
I giocatori hanno anche guardato
Recensioni: 16
Jay

6/8/2022

Tradotto automaticamente

Minecraft è un gioco che offre infinite possibilità, ora può essere goduto ancora di più dal doppio pacchetto di bedrock e java ciascuno con i suoi pro

Aetrial

18/9/2022

Tradotto automaticamente

molto facile tutto in uno java/bedrock, nessun problema in multiplayer, questa è l'edizione da acquistare e da acquistare, nessun problema con la regione o con la versione per PC.

Weoncio

10/10/2022

Tradotto automaticamente

Ha rtx per più divertimento e curiosità. Ho provato il gioco sul pc del mio partner e la verità è che è lo stesso di sempre,

GatoVuelta

17/10/2022

Tradotto automaticamente

Mi sto davvero godendo Minecraft. Mi piace la libertà di costruire quello che voglio e la possibilità di girovagare ed esplorare. Il gioco è anche molto impegnativo,

CHINOARTUR0

27/10/2022

Tradotto automaticamente

È un ottimo gioco per passare il tempo giocando da solo o con gli amici, personalmente preferisco giocare da solo e fare quello che voglio,
Minecraft: Java & Bedrock Edition
When we talk about the Minecraft Java & Bedrock Edition (PC) key, it's hard to determine where to begin. The sandbox video game was created by Markus Persson and later developed by Mojang. It's reminiscent of 8-bit games, where your creativity is the only limiting factor. Imagine playing with lego — it's pretty much the same with Minecraft, only the blocks from which you build your masterpieces are never-ending!
The World Is Your Playground!
With Minecraft Java & Bedrock Edition (PC) key the whole world around you is made out of blocks, reality itself is made out of blocks! Birds, sheep, clouds, and water are all blocks! A never-ending, or rather, the ever-lasting world is full of caves, dungeons, monsters, and other blocky designs! And the best part is that you can collect everything and use anything while building your own designs! Oh, by the way, there are portals to other dimensions too.
It's All About Exploring!
There are countless possibilities of what you can craft with Minecraft Java & Bedrock Edition (PC) key in your hand! Combine different materials and create items for construction, survivability, hunt and battles! More so, the game offers numerous different game modes for your ultimate experience! With Minecraft Java & Bedrock Edition (PC) key you can immerse in quite a few intricate challenges! All of the given contents below are yours to fully explore in single-player mode:
• Play survival, where you start empty-handed and have to create your own shelter, protection and everything around you from the very scratch.
• Go one step further into extreme survival, where you have a sole life, and with your death, everything created is lost!
• Unleash your talents in Creation mode, where you have instant unlimited resources, immortality, and an ability to fly!
• Ghostly Spectator mode, where you are just a wandering soul, untouchable, unimpactful but equipped with an all witnessing and seeing eye!
Online?
However, modes in solo play are far from the end of what Minecraft game is able to offer! Buy Minecraft Java & Bedrock Edition (PC) key and join millions of players online, where what's happening will depend on the realm you decide to join. From battle arenas to limited survival matches, to massive construction worlds, Minecraft key offers it all! Explore, craft, create and enjoy to the maximum!
Altri dettagli
Lingue

Data di rilascio

7 giugno 2022

Editore

Microsoft Studios

Sviluppatori

Mojang AB