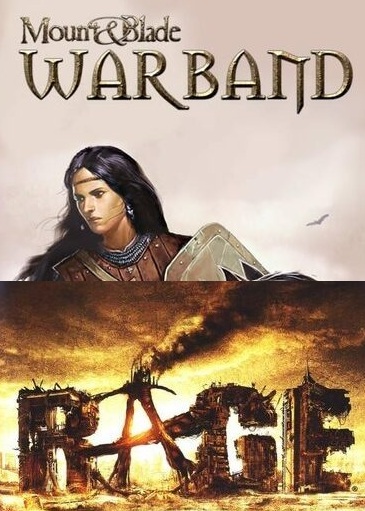 Questo gruppo include

2

giochi:
Rage
Rage is a post-apocalyptic open-world FPS game developed by Id Software. The world is struck by an asteroid and the surface of earth is forever changed. To preserve life, before the asteroid colliding with Earth, the Government issued an order to put the selected humans into cryogenic state in an underground shelter. You play as Nicholas Raine, a military man chosen among the selected few. You wake up a hundred years past the incident and find out that your head has a price tag on it.
The game has stunning graphics due to the Id Tech® 5 engine, and is set in an open-world setting, full of unique characters, objectives, side-objectives and various forms of mutated enemies. To fight the surrounding threats, you'll have a wide arsenal of weapons to "equal out the odds".

A lot of action in Rage universe takes place behind a wheel, yes, you'll be able to have your personal vehicle! It's augmentable and customizable if you successfully finish certain races and checkpoint rallies! You can also use your vehicle as a means of transport, to make your exploration more efficient, just watch out for those sneaky road pirates on the way!
---
Dettagli del gioco
Rates 18+ (Mature)

Single-player

Multiplayer

Co-op

Third-person

First-person
---
Genere:
Funziona:
Lingue:
Czech
English
French
German
Italian
Japanese
Polish
Russian
Spanish
---
Data rilascio:
October 4, 2011
Editore
Bethesda Softworks
---
Requisiti minimi del sistema
System requirements: Windows XP (SP3) / Vista / 7
Processor: Intel Core 2 Duo / Equivalent AMD
Memory: 4 GB
Graphics: GeForce 9800 GTX
Storage: 25 GB
Requisiti raccomandati del sistema
System requirements: Windows XP (SP3) / Vista / 7
Processor: Intel Core 2 Duo / Equivalent AMD
Memory: 4 GB
Graphics: GeForce 9800 GTX / Radeon HD 5550
Storage: 25 GB
Mount & Blade: Warband key
Anyone looking for the ultimate RPG sandbox experience should look no further than Mount & Blade: Warband key! The game still has plenty to offer for the modern gamer, even 9 years after its initial release and it is easy to see why.
With Mount & Blade: Warband key, you're not limited by a restricting storyline, even though there is a story to the game. That means you can just go out and do whatever you please in a massive world, which makes Warband as replayable as a game can get. Add an amazing price to the game and there is no reason why you shouldn't buy Mount & Blade: Warband key right now!
Become Powerful!
The game is not about starting off as a powerful character, instead, you start off as nothing more than a peasant set out to strive for greatness. And great you become, as you traverse the vast lands, going to battle with a plethora of opponents. The more you do, the more powerful you become and soon enough you will turn into a fierce leader, leading a large army of men who all wish they were you!
What To Expect?
One thing you won't get with a Mount & Blade key is a thrilling storyline and amazing graphics, as not only is the game dated in those aspects, it was never about them in the first place. What you can expect is an adventure that allows you, the player, to take control of everything by yourself. Nobody is forcing you into completing side quests, or even main quests for that matter, as you do whatever you want, whenever you want! If you want a classic sandbox experience, don't miss out on this one!
---
Dettagli del gioco
Single-player

Multiplayer

Third-person

First-person
---
Genere:
Funziona:
Lingue:
Czech
English
French
German
Hungarian
Japanese
Polish
Simplified Chinese
Spanish
Traditional Chinese
Turkish
---
Data rilascio:
March 31, 2013
Sviluppatori
TaleWorlds Entertainment
Editore
TaleWorlds Entertainment
---
Requisiti minimi del sistema
System requirements: Windows XP
Processor: Pentium 4 2.0 GHz
Memory: 512 MB RAM
Graphics: 64 MB VRAM
Storage: 100 MB
Requisiti raccomandati del sistema
System requirements: Windows XP or greater
Processor: Intel Core Duo 2.0 GHz or AMD Athlon 64 X2 3600+
Memory: 1GB RAM
Graphics: NVIDIA GeForce FX 5200, ATI Radeon 9600, or better
Storage: 100 MB