F1 23: Champions Edition XBOX LIVE Key UNITED STATES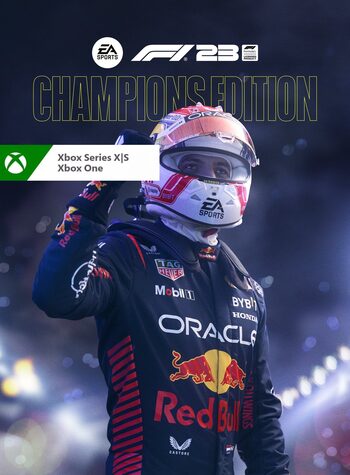 F1 23: Champions Edition XBOX LIVE Key UNITED STATES
Share with someone who would like this!
Cheapest offer
Buy as a gift
Receive this product as a gift PDF.
Available at checkout:
Egyesült ÁllamokAktiválható itt:

Amerikai Egyesült Államok

Digitális kulcs

Ez a termék a(z) (CD-KEY) fizikai kiadása

Azonnali szállítás
Vélemények: 0
Termékleírás
F1 23: Champions Edition
F1 23 Champions Edition includes:
• 3 days Early Access;
• Max Verstappen in-game items;
• 4 New My Team Racing Icons;
• 4 Braking Point 2 My Team Icons;
• Braking Point 2 Customisation items;
• F1 World Bumper Pack;
• 18,000 PitCoin virtual currency.
Get ready to ignite your passion for speed and dive headfirst into the heart-pounding world of Formula One! F1 23 Xbox Live key catapults you into a realm of white-knuckle racing, where every second counts and victory hangs in the balance. Buckle up and strap yourself in for an adrenaline-fueled adventure as you take command of the wheel and unleash the raw power of the updated 2023 cars. Feel the rush as you join the official F1 lineup, racing alongside your favorite 20 drivers and their world-renowned teams. Immerse yourself in the stunning sights and sounds of the sport, from the thunderous roar of the engines to the breathtaking detail of meticulously recreated circuits from around the globe. Buy F1 23 Xbox Live key cheaper!
F1 23 game features:
The new Formula-1 season stars with F1 23! Here's what you can expect from the latest installment of the series:
• 2023 season. Immerse yourself in the game that showcases all the updated 2023 cars, featuring the official F1 lineup of your favorite 20 drivers and 10 teams. Get ready to unleash your racing skills and compete at the highest level in the world of Formula One;
• A new chapter. A new story unfolds in F1 23 as story mode makes a comeback, bringing with it high-speed drama and heated rivalries in the thrilling Braking Point. Immerse in the intense rivalries and experience the adrenaline-pumping world of Formula 1 racing;
• F1 World. F1 World serves as your central hub, offering a range of new content inspired by the actual F1 season calendar. Elevate your experience throughout the entire season with an innovative progression system. Take on challenges, compete for rewards, earn upgrades, and acquire authentic F1 livery, suit, and helmet drops, adding a true-to-life touch to your journey;
• New circuits. Race in new Las Vegas and Qatar circuits;
• My Team Career Mode. Create your dream team and challenge other F1 enthusiasts! Race in split-screen co-op mode or cross-platform multiplayer;
• Cheap F1 23 price.
Claim the checkered flag!
Immerse yourself in the world of Formula One as you navigate hairpin turns, conquer challenging circuits, and go head-to-head against the best drivers in the world. Dive into the captivating story mode, where drama and rivalries intertwine, keeping you on the edge of your seat with every twist and turn. Experience the intensity of the Formula One world as you forge alliances, face off against fierce competitors, and strive to secure your place in racing history. So rev your engine, feel the surge of adrenaline course through your veins, and prepare for the race of a lifetime. F1 23 beckons you to join the elite ranks of the fastest drivers on the planet. Are you ready to seize the checkered flag, leave your rivals in the dust, and etch your name in the annals of Formula One history? There's only one way to find out. Buy F1 23 Xbox Live key – the countdown to glory starts now!
Egyéb részletek
Nyelvek

Megjelenés dátuma

2023. június 13.

Kiadó

Electronic Arts Inc.

Fejlesztők

Codemasters