Dead Space (Xbox Series X|S) Xbox Live Key UNITED STATES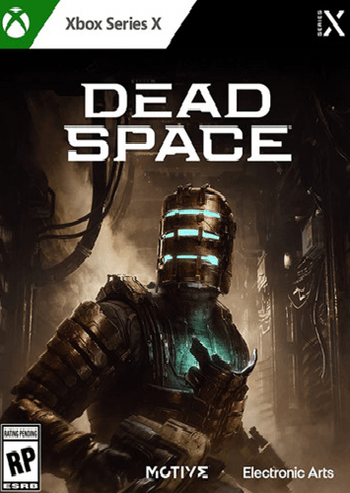 Dead Space (Xbox Series X|S) Xbox Live Key UNITED STATES
Share with someone who would like this!
Egyesült ÁllamokAktiválható itt:

Amerikai Egyesült Államok

Check

Digitális kulcs

Ez a termék a(z) (CD-KEY) fizikai kiadása

Azonnali szállítás
Vélemények: 0
Termékleírás
Dead Space
Dead Space Ramake is a next-gen remake of one of the best sci-fi survival horror games developed by Motive Studio. You are playing as Isaac Clarke, an engineer stuck in the interstellar mining ship together with reanimated beings that once were human, Necromorphs. Fight your way through the starship infested with beings that adapt to your every move. Providing one of the entities with a headshot won't work, thus the game presents you with a mechanic called strategic dismemberment, to stop the freaks, you must cut their arms, legs, and heads! Immortal doesn't mean unstoppable! Can you survive the onslaught of the Necromorphs? Find out with Dead Space Remake Xbox Live key!
Dead Space Remake game features
The features that made the original Dead Space into one of the most beloved survival-horror games are now remade and expanded for modern hardware:
• Enhanced visuals. The game's atmosphere and dread are enhanced with updated visuals, shadows, lighting, and reflections;
• Expanded story. The main plot line and side quests draw inspiration from Dead Space comics and past games, expanding on the lore, story, and characters;
• Intensity director. This mechanic dynamically adjusts your gameplay with monster spawn points, attack patterns, environmental elements, and your character's stress and anxiety levels;
• No more loading screens and camera cuts. The remakes will immerse you in sci-fi horror with seamless gameplay and no loading screens;
• More blood and gore. With a new Peeling system, you'll be able to rip your enemies to shreds and leave their limbs hanging by a thread with bones exposed, which can also be used for creative and strategic finishing blows;
• Cheap Dead Space Remake price.
Terror in space
Experience the remake of Dead Space – the fan-favorite, intense survival-horror experience that will keep you on the edge of your seat for the entire run of its paranoia and anxiety-inducing gameplay. Take on the role of Isaac Clarke, an engineer who must fight his way through the spaceship and survive the terror of the immortal Necromorphs. The unique weapons system creates brutal and gory combat encounters, and the updated visuals, lighting, and camera turns the dial for horror and dread to 11. If you've never played it, Dead Space Remake Xbox Live key is a perfect opportunity to experience one of the best games in the survival-horror genre.
Egyéb részletek
Nyelvek

Megjelenés dátuma

2023. január 27.

Kiadó

Electronic Arts Inc.

Fejlesztők

MOTIVE