XCOM: Chimera Squad (PC) Steam Key UNITED STATES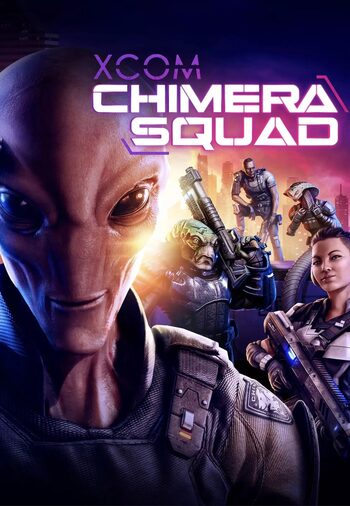 XCOM: Chimera Squad (PC) Steam Key UNITED STATES
Share with someone who would like this!
Egyesült ÁllamokAktiválható itt:

Amerikai Egyesült Államok

Check

Digitális kulcs

Ez a termék a(z) (CD-KEY) fizikai kiadása

Azonnali szállítás
Vélemények: 0
What is XCOM: Chimera Squad Steam key?
An opportunity to once again visit the sci-fi universe of the widely acclaimed XCOM franchise is one of the main reasons to buy XCOM: Chimera Squad key but surely it's far from being the only one. Turn-based tactical game series from Firaxis and publisher 2K makes a return and invites the players to witness planet Earth 5 years after the events of XCOM 2. The desperate human battle for freedom against the extraterrestrial invaders and their puppet government was finished in the second installment. However, the peace achieved through this victory still remains fragile…
City 31
As the ADVENT forces fled from Earth, they left their soldiers behind and this means that the human race is no longer the only intelligent species living on the planet. The establishment of the new settlement called City 31 serves as a display of effort to establish peace between species. Buy XCOM: Chimera Squad key to keep this noble endeavor from descending into anarchy. While some humans and extraterrestrials seek peace, others conspire against it. It's up to you to make sure these malevolent forces do not succeed.
Chimera Squad
To pursue your mission and protect the peace in City 31, you'll command a team of elite operatives known as Chimera Squad. This unit is composed of both human and alien agents, each of whom has unique special abilities, personal motivations and different ways to influence the flow of combat. Buy XCOM: Chimera Squad key and explore new possibilities to develop your soldiers individually. Assign them to training, promote them to unlock new skills and do everything to compose an unbeatable team.
Combat system
What would XCOM be without its infamous turn-based combat? The addictive combat system from the previous games returns and it brings along a multitude of interesting upgrades. At the start of every encounter, you'll get to determine the entry points of each agent together with their turn in the overall action timeline. Remembering the order of which agent and enemy will go next can be crucial to the success or failure of the mission. Buy XCOM: Chimera Squad key to personally explore and discover more features like temporarily replacing Chimera Squad members with androids, obtaining gear from Supply and Scavenger markets, crafting equipment at the HQ or micromanaging the social unrest in City 31.
Rendszerkövetelmények
Minimális rendszerkövetelmények
Rendszerkövetelmények

Windows 7, 64-bit

Processzor

2.4 GHz Quad Core

Memória

4 GB RAM

Grafika

1GB AMD Radeon HD 7770, NVIDIA GeForce 650

DirectX

11

Tárhely

18 GB

További megjegyzések

Microsoft Visual C++ 2012 and 2015 Runtime Libraries, and Microsoft DirectX.
Ajánlott rendszerkövetelmények
Rendszerkövetelmények

Windows 7 64bit / Windows 8.1 64bit / Windows 10 64bit

Processzor

3GHz Quad Core

Memória

4 GB RAM

Grafika

2GB AMD Radeon HD R9 290, NVIDIA GeForce GTX 980

DirectX

11

Tárhely

18 GB
Egyéb részletek
Nyelvek

Angol

Francia

Német

Olasz

Spanish - Spain

Megjelenés dátuma

2020. április 24.

Kiadó

2K

Fejlesztők

Firaxis Games

Ezen működik