Best Buy Gift Card 30 USD Key UNITED STATES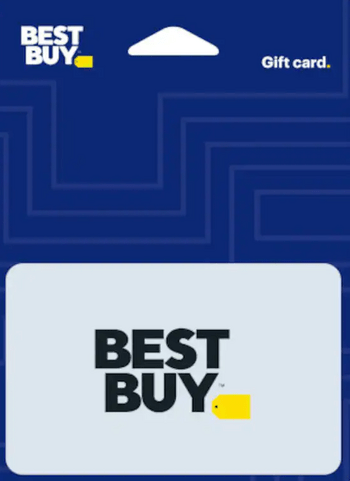 Best Buy Gift Card 30 USD Key UNITED STATES
Share with someone who would like this!
Egyesült ÁllamokAktiválható itt:

Amerikai Egyesült Államok

Check

Digitális kulcs

Ez a termék a(z) (CD-KEY) fizikai kiadása

Azonnali szállítás
Fontos közlemény:
These virtual gift cards can be used at BestBuy.com, allowing your recipient to start shopping right away.
Termékleírás
Best Buy Gift Card 30 USD
In the modern day, no one can picture a home without electronic devices, be it a computer, a gaming console, or a simple microwave. There's no denying that technology and electronic devices have made our lives a lot easier. If your home is missing something or you've dreamed about buying that fancy coffee machine for quite some time now, Best Buy is a place to go. More than this, you can not only shop for any electronic devices from the comfort of your home but also get the best deals with a cheaper Best Buy 30 USD gift card key. Shop for anything you want, need, and desire – find the best Best Buy gift card deal right here at Eneba!
What can I buy with a Best Buy gift card?
With the Best Buy voucher, you can buy so much amazing things that it's hard to believe, but we made you a shortlist of what you can spend your Best Buy card on:
• Furniture for every room. At Best Buy, you'll find furniture for the living room, bedroom, kids' room, bathroom, and kitchen – furnishing your house has never been easier;
• Patio furniture and appliances. There's nothing better than sitting in a patio chair while grilling a juicy steak;
• Appliances. From big to small – at Best Buy, you'll find appliances like fridges, dishwashers, coffee machines, and everything in between;
• Electronics. TV and home theater gadgets, smartwatches, computers, smartphones, office equipment, and much more;
• School and office equipment. Desks, backpacks, etc.
• Toys and collectibles. Dolls, building sets, as well as collectibles and action figures for numerous fandoms;
• Sports equipment for health and fitness. From treadmills and massagers to electronic toothbrushes and groomers – Best Buy has everything you need to take care of your body;
• Entertainment. Movies, TV shows, eReaders, and video games – choose how you love to spend your free time;
• Cheap Best Buy gift card price.
It's always better with a Best Buy gift card!
It doesn't matter if you are a regular Best Buy customer or just interested in their offerings occasionally, you can always make your shopping experience better with a Best Buy 30 USD gift card key. Shop for anything you like or need from Best Buy cheaper with a Best Buy gift card! Buy furniture, kitchen equipment, electronics, health care products, toys, and so much more! The Best Buy card can be used at any Best Buy store or online. Now, you can shop at Best Buy and save your money at the same time! It's always better to shop with gift cards!
How to redeem a Best Buy gift card?
To redeem and shop with a Best Buy voucher is simple:
• At checkout, scroll down and click on Continue to Payment information;
• Click on Use a Best Buy gift card, Store Credit, or Discount Code;
• Enter your Best Buy card number and PIN (if required);
• Click Apply.
Egyéb részletek
Megjelenés dátuma

2018. július 1.