Fortnite X Marvel: Zero War Collection (DLC) Epic Games Key UNITED STATES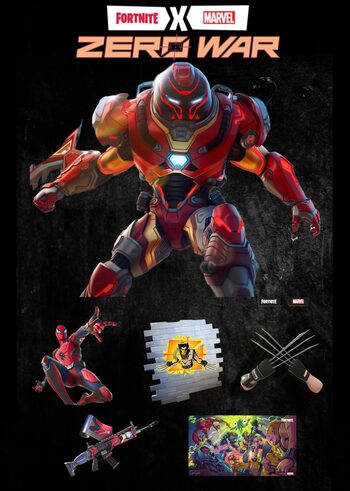 Fortnite X Marvel: Zero War Collection (DLC) Epic Games Key UNITED STATES
Share with someone who would like this!
Egyesült ÁllamokAktiválható itt:

Amerikai Egyesült Államok

Digitális kulcs

Ez a termék a(z) (CD-KEY) fizikai kiadása

Azonnali szállítás
Fontos közlemény:
Code must be used until December 31, 2024. One code includes all Zero War Collection. To redeem visit: fortnite.com/redeem
Vélemények: 0
Fortnite X Marvel: Zero War Collection
Fortnite X Marvel: Zero War Collection includes:
• Spider-Man-based Outfit;
• Iron Man-based Wrap;
• Wolverine-based Pickaxe;
• Spray based on Fortnite x Marvel: Zero War;
• Loading Screen based on Fortnite x Marvel: Zero War.
After activating all the codes, you will also receive the following:
• Iron Man Zero Outfit;
• Repulsor Pack Back Bling;
• Bladed Gauntlet Pickaxe;
• Iron Man, Revealed Emote.
The Marvel-ous bundle
If you missed any of the special Fortnite X Marvel Zero event cosmetics, Fortnite X Marvel: Zero War Collection (DLC) Epic Games key is a perfect option to adorn with amazing Marvel superhero skins and gliders! Swing into the island as Spider-Man, fly in as Tony Stark in Hulkbuster armor, or extend the claws of Wolverine himself! All are included in this fantastic Fortnite X Marvel bundle.
Even more content
If you feel tired of the usual Fortnite style of play and want to innovate, there are plenty of Fortnite DLCs and skins at the Eneba marketplace. The more skins, gliders, and pickaxes you have, the more mixing and matching you can do! Create your own unique style and appearance. Everything is possible with a few Fortnite gift cards, V-bucks, and cosmetic items! Want more? We gotcha!
What about Fortnite?
Purchase the bundle and lose yourself in the free-to-play battle royale from Epic Games which also comes with such modes as Creative and Save the World. Since its launch in 2017, Fortnite climbed to the heights of popularity, becoming a widely recognized cultural phenomenon! The title features addictive gameplay, a rewarding progression system, an engaging learning curve, and a staggering variety of content. What differentiates Fortnite from other battle royale games like PUBG or Apex Legends? The material-gathering system together with unique building mechanics reminiscent of those present in Minecraft! Join the fun!
How to redeem Fortnite X Marvel: Zero War Collection on PC?
If you want to redeem a Fortnite skin, just follow the instruction provided below:
• Click Sign In on the top right corner of the Fortnite home page;
• Log in with your Epic Games account;
• Hover your mouse cursor over your account name in the top right corner;
• Select the Redeem Code option;
• Enter the key code and click Redeem.
Want to expand your Fortnite Locker even further? Be sure to visit our Fortnite skins collection for some cheap deals! Expand what you can do with great deals in our Fortnite V-Bucks gift card collection.
Egyéb részletek
Nyelvek

Megjelenés dátuma

2022. szeptember 28.

Kiadó

Epic Games

Fejlesztők

Epic Games