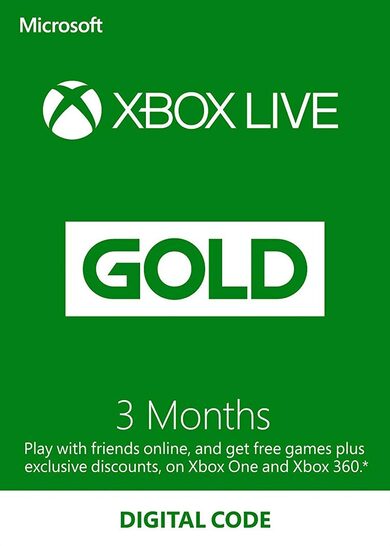 Xbox Live Gold 3 months Xbox Live Key POLAND
Désolé, en rupture de stock
Ne peut pas être activé à États-Unis
Fonctionne sur
Important:
No expiration date. The product works ONLY in countries that have XBOX LIVE service available: https://www.xbox.com/en-US/live/countries . Make sure that your account and IP is LOCATED in one of the supported countries!
Xbox Live Gold 3 Months
Buy Xbox Live Gold 3 months subscription and join probably the largest gaming community in the entire world! The Xbox Live platform is a social entertainment network that provides a platform for Xbox One and Xbox 360 console owners to share their experiences with seamless ease, maximum entertainment, and well-rounded features. While it's true that Xbox Live is a free-to-use platform, there are numerous benefits to having Live Gold, and if you're a gaming fan, honestly, owning a Live Gold subscription seems like an absolute must.
Join the GOLD Side
There's no denying it, anyone who has had an opportunity to at least try gaming on the Xbox One will immediately tell you – It's awesome! Buy Xbox Live Gold 3 months subscription and make awesome into an awesome plus! Think it's impossible? Once you join the club, there's no coming back for you'll be dazed with features exclusive to the Live Gold holders; Free monthly games, one of the most advanced multiplayer/matchmaking systems, Games with Gold, Deals with Gold, and a whole lot more. The fact that you can resist it, doesn't mean that you should. We're not offering you a one-way ticket to the dark side, on the opposite… Come to the GOLD side!
Freedom with Gold
While the 3-month period is not the maximum amount you can own, it's definitely enough for you to get the hand of all the features that the membership provides! Buy Xbox Live Gold 3-months subscription and get the complete access to everything that the platform offers. Xbox Live Network is partially a free-to-use service (some of its most beneficial features are locked away) and if you want the complete package – a monthly subscription comes as the best and most convenient way to unlock it! If you're no to this service, our marketplace also offers a 14-days Live Gold Trial card for just a few dimes, so if you're not sure about the full package; buy the trial, try the trial, and you'll have your answer in no time.
Online Multiplayer Experience
Talking about the most captivating and rewarding features – there are quite a few. Buy Xbox Live Gold 3 months subscription and receive an array of game experience enhancing benefits right from the get-go. If we're talking about benefits, the camaraderie between the community members is one to mention. With the Gold membership, you'll get to join millions of players online. Join them in the most captivating co-op multiplayer adventures or compete and prove your might in tons of competitive games! Find new friends, meet new rivals, and enjoy the limitless entertainment value whenever you go online.
Free Monthly Games
The online accessibility is just one of the captivating features that come by being a member. Buy Xbox Live Gold 3 months not only for the millions of potential friends and rivals but for quite a sum of free-to-play games too! Free-to-play games? Why yes! Every month, the Xbox Live Gold members receive for up to (2-4) free games. By receive we mean you get to play through them, and then you get to own them for as long as your subscription is active – for a month, for 3 months, for 12 months, or maybe, to infinity and beyond! If you'd count the 3 months period that this membership card provides, that's anything from 6 to 12 free games that you'd get entirely for free!
It's All About Community
So, buy Xbox Live Gold 3 months subscription, find new friends, get to play free games, bring your gameplay online, and on top of it all, enjoy a whole bunch of discounts with up to 50-75% cuts off your in-store purchases! If you're a gaming enthusiast, acquiring new games is but a regular activity on your schedule, right? Well then, catching an awesome deal makes it that much better, right? Now imagine that there's a whole page of member-exclusive deals every time you log in, how would that make you feel? Become a member and find out and also, save a pretty penny too! It's worth noting that member-exclusive deals are applied to pre-selected games list, though, throughout the 3 months period – you'll see plenty!
Praise-worthy Matchmaking
Buy Xbox Live Gold 3 months membership and experience one hell of a fine matchmaking system. Adrenalin-fuelled play, top-notch moments, and breathtaking conclusions to your play are only achieved when both sides are on their top game. And the Xbox Live Gold matchmaking system aims to place you with players of similar skill level to yours, same goes to your competition. With millions of players online, you'll easily find challengers ready to face you with everything they have, show them the same! In the end, it's all about the camaraderie and companionship, however, sometimes a little aggressiveness and knee-bending competition is also very welcomed.
Two Ways to Activate
Once you buy the Xbox Live Gold 3 months Subscription Card (or any other card for that matter) you'll need to activate the key code on your own. How to activate it? Where this code is located? Everything is really simple, and if you follow the steps listed below, you'll have no problems with your prepaid code activation! The key can be activated in two ways: on your console, or on your browser, choose the one most fitting for you and enjoy all of the above-listed benefits right from the get-go!
To activate your Xbox Live Gold 3 months subscription on your Xbox One console:
• While on the Home Screen, click on the Store
• While in the Store, find Categories and choose Games option
• Choose the Use a Code feature
• If prompted, please Sign In
• Check your email for the 25-character key code
• Enter the 25-character code
• Enjoy the 3-months lasting awesomeness!
To activate your Xbox Live Gold 3 months subscription via Web Browser
• While on the browser, select the Redeem Code feature
• Click the Sign In option
• Log into Your Microsoft Account
• Click on the Redeem feature
• Enter the 25-character code and click Confirm
• The 3-months lasting experience is now all yours!
---
Date de publication :
September 3, 2013
Développeurs
Microsoft Studios
---