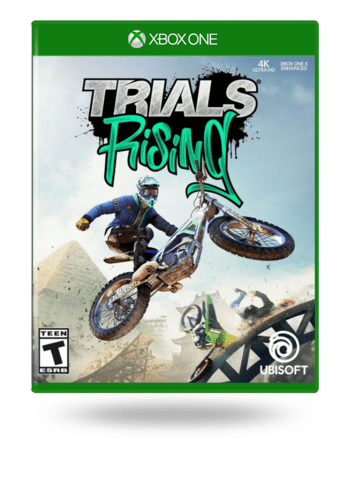 Désolé, en rupture de stock :(
Vous voulez ce jeu ? Nous pouvons vous informer par e-mail lorsque le produit sera nouveau disponible.
Notification
Blu-ray

Ceci est une édition physique du produit ( Blu-ray )
Commentaires: 0
Description du produit
Trials Rising | Used Xbox One disk
Trials Rising - Xbox One brings a motorcycle sports game that will captivate your attention for hours upon hours to come. Developed by RedLynx and published by Ubisoft, Trials Rising continues to set the highest possible standard for the Trials franchise! New astonishing tracks, ingenious and visually stunning locations, and some of the wildest motorcycle tricks are just one click away. Are you ready for the challenge? Buy Trials Rising - used Xbox One CD and find out! Don't miss this chance to increase your physical game library - buy a new or second-hand disk cheaper! A pre-owned copy costs less and provides you with quality gameplay just like brand new ones!
Physics-bending Tracks
Utilize the cheap Trials Rising Xbox One price and explore over 100 over-the-top awesome real physics-based tracks all across the world. From China to New York, to Paris and tons of other locations everywhere in between are yours to discover, and of course, beat! Beating these tracks is one thing, competing for the best time against your friends is another, and then there's also medals that ultimately define your skill and talent!
Unlimited Customization
With Trials Rising pre-owned Xbox One disk in your possession, not only will you be able to compete against the world's finest contenders, but you'll also get to express your style and creativity the way you deserve! With over 10,000 available items – you are sure to find the perfect style to fit your outlandish play. Dress up, put some tight wheels, and stick a bunch of rad stickers for the final touch up. Once you're done, get to the business!
Gameplay Intricacies
Buy Trial Rising second-hand Xbox One CD and pull off the most amazing stunts that the series has seen. For the very beginners in the scene, the game presents a really practical and helpful tutorial, which actually does provide some of the most crucial tricks and tips that you'll be perfecting throughout your entire gameplay! And that's not all, there's also a pretty broad level creator – for when you want to take complete control of the battlefield!