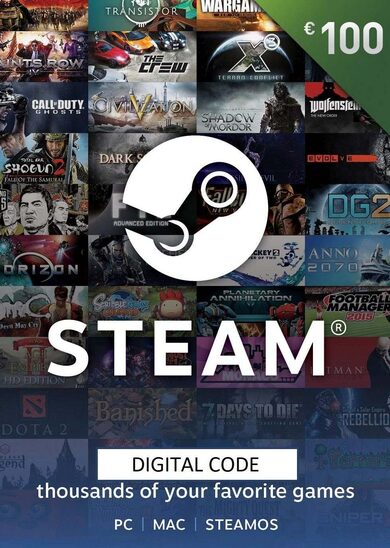 Steam Wallet Gift Card 100 EUR Steam Key EUROPE
99.83%

of 25k+ ratings are excellent!
Avis important:
No expiration date.
Steam Wallet Gift Card 100 EUR
Buy Steam Wallet Gift Card 100 EUR and immerse in an awesome experience with Steam. Expand your Steam Wallet funds and acquire the latest and the best games and DLCs with ease. These gift cards are amongst the most popular purchases when it comes to PC gamers' preferences and there's a solid grounding for it.
The offer at hand is great for multiple reasons, one of which is that these cards can benefit both, you and those close to you too! Purchase Steam Wallet Gift Card 100 EUR and select from a plethora of options or surprise your gamer friend or family member with a huge gift! There's probably not a single gamer in the world that wouldn't cheer after receiving this.
Using the Gift Card option is also worth it because of its accessibility and seamless usage. Buy it here and use it whenever you want, no additional use of your credit card needed – it's safe, secure and very simple! Also, if you'd decide to acquire Steam Wallet Gift Card 100 EUR, you should also know that there's no expiry date to it! Use it whenever the right opportunity arises.
Last but not least, your every purchase offers a bargain of its own. Every Steam Wallet Card key has a set value, and while you'll receive exactly the amount written on the card – in most cases, you'll pay less! Games market prices are constantly changing, and if you catch the welcoming wind, you'll benefit every time!
Buy Steam Wallet Gift Card 100 EUR and activate it in a manner of comfort and simplicity. Just go to Steam account, select Steam Wallet option, click on 'Redeem a Steam Wallet Gift Card or Wallet Code' feature and enter the key code once prompted to do so. That's it, the funds should reach your Steam Wallet within a few moments! Enjoy the experience!
---
Date de publication :
September 10, 2013
---